Release Date
August 22, 2006
Produced by
Sony Wonder
Format
DVD
Discs
1
Region
1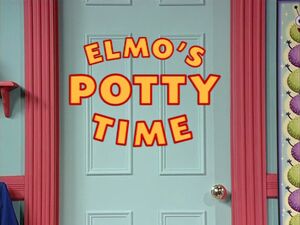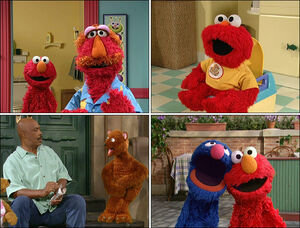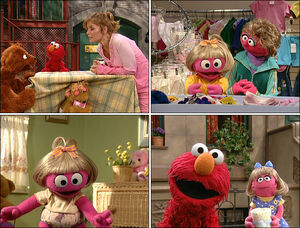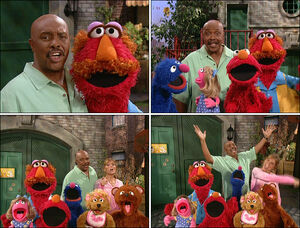 Elmo's Potty Time is a 2006 Sesame Street video in which Elmo talks to young viewers about using the potty. Baby Bear's sister Curly Bear still uses diapers, but is learning to go to the bathroom. Baby Elmo and Baby Prairie Dawn (with her mom) are seen in flashbacks.
In 2022, this video was released in an expanded form called Potty Time Plus! Getting Ready With Elmo.
Segments
Song: "It's Potty Time"
Song: "Trying Song" (remake)
Cartoon: "You're a Big Kid Now"
Film: Kids use different names when going to the bathroom.
Animation: In a King Kong parody, a large gorilla listens to his body's needs.
Song: "Accidents Happen"
Song: "Dirty Diaper Blues"
Song: "Toilet Paper Factory Rap"
Film: The sounds of a bathroom make a rhythm
Film: Great Moments at the Sink: Washing Hands (edited with new voice-over)
Song: "You'll Use the Potty"
Song: "It's Harder the First Time"
Features
Cast
Starring The Muppets™ of Sesame Street:
Additional Muppet Performers:
Credits
Supervising Producer: Dionne Nosek
Directed by Emily Squires
Written by Christine Ferraro
Producer: Jennifer Smith
Co-Producer: Kevin Clash
Line Producer: April Chadderdon
Music Directors: Loren Toolajian, Michael Ungar, SandBlast Productions
Production Designer: Victor DiNapoli
Costume Designers: Bill Kellard, Terry Roberson
Senior Muppet Consultant: Kevin Clash
Jim Henson's New York Puppet Workshop: Jason Weber, Connie Peterson, Stephanie Braun, Jason Seck, David Roberts, Rollie Krewson, Michelle Hickey, Sarah Luraschi, Polly Smith, Anney McKilligan
Associate Director: Ken Diego
Stage Manager: Adam Matalon
Sound Effects: Dick Maitland
Segment Producers: Chatsby Films, Inc., Magnetic Dreams Studio, Mustapha Khan Prod., Pratfall Productions, Upsidedownit, LLC., and Keniele Brown, Lisa Crafts, Nancy Kim, Cathy Mastiner, Aviva Slesin
Segment Music: Charlie Ernst, Tony Geiss, Joe Raposo, Caleb Sampson, Ray Sipherd
Audio: Blake Norton, Carla Bandini-Lory, Mel Becker
Camera: Frank Biondo, Jimmy O'Donnell, Jerry Cancél, Aaron Medick, Ron Washburn
Utilities: Gordon Price, Chuck Tutino
Senior Graphic Designer: Mike Pantuso
Set Decorator: Nat Mongioi
Vice President, Education and Research: Rosemarie T. Truglio, Ph.D.
For The Jim Henson Company: Jill Colley, Janelle Courts, Joey Roddy
For Sesame Workshop: Scott Chambers, Fay Corinotis, Jorge Ferreiro, Ray Hammerman, Heather Hanssen, Vicky Levy, Stephanie Longardo, Sharon Lyew, Peter MacKennan, Dave Matley, Jane Park, Cynthia Rogers, Michele Schuessler, Richard Siegmeister, Kalombo Tshimanga, Autumn Zitani
Taped at Kaufman Astoria Studios
Other releases