Release Date
October 11, 2011
Produced by
Warner Home Video
Catalogue no.
SS00226
Format
DVD
Discs
1
Region
1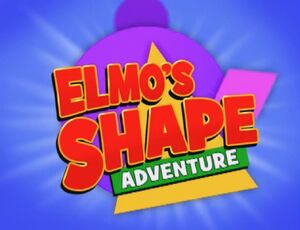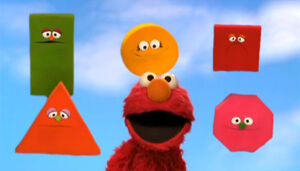 Elmo's Shape Adventures is an 50-minute Sesame Street DVD released on October 11, 2011.[1]
The DVD's main feature is the street story from a 2011 episode, in which Elmo, Rosita and Telly are Shape-O-Bots and help special guest star Andy Samberg help in various situations. The video also features new musical framing footage featuring Elmo and some singing shapes. The song "Telly Tut" appears as a bonus feature.
Kevin Clash directed the new material written by Molly Boylan.
"

Elmo, Telly and Rosita are the "Shape O Bots", able to "transform" into shapes for those who need them. With their own theme song and cool animation, you'll see them as you never have before! Will they be able to help guest star Andy Samberg? Will the Shape O Bots be able to come up with a rhombus for the King of Diamonds? What is a rhombus anyhow? Elmo and the Shape O Bots will introduce a variety of shapes including circles, squares, octagons, rectangles, triangles and hexagons to kids.

"
Segments
"Shape-O-Bots" Story
Animation: Pebbles make a circle
Cartoon: Circles become the moon and an owl
Film: A girl flies and makes a circle.
Ernie and Bert sing "It's a Circle." (ending cut)
Film: C is for circle
Animation: A square appears in the grass.
Film: Kids fly and form a square.
Cartoon: "It's Hip to Be a Square"
Film: S for Square
Film: Pilobolus makes an octagon.
What's the Word on the Street?: Octagon
Jack Black and Elmo show what an octagon is.
Animation: An umbrella makes an octagon.
Cartoon: Rectangles make buildings.
Film: The floating kids make a rectangle.
Film: Rectangles in the city (Elmo narration)
Animation: Leaves make a triangle
Cartoon: A triangle becomes a boat sail.
Film: The floating kids make a triangle.
Film: A detective finds triangles.
James Blunt and Telly sing "My Triangle."
Film: Pilobolus makes a triangle.
Film: T for Triangle
Cartoon: "The Shape of Things"
Animation: Kids look at a shape collage.
Murray Monster looks for shapes at a baseball game. (from Count on Sports)
Song: "I'm in Great Shape"
International releases
Sources
Community content is available under
CC-BY-SA
unless otherwise noted.