Written by
Tony Geiss
Date
1989
Publisher
Ephemeral Music
Sesame Street Inc.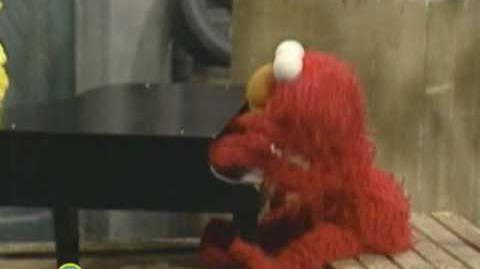 "Elmo's Song" is a Sesame Street song introduced in Episode 2710.
Elmo writes his own song and sings it for Big Bird and Mr. Snuffleupagus, who then wish that they had their own songs. Elmo lets them insert their own names into the lyrics, resulting in "Big Bird's Song" and "Snuffy's Song." In those versions, the other two characters provide the backing vocals. The sketch ends with Elmo calling for Gordon and Gabi, so that they can have their own songs. Most releases cut this ending.
A variation of "Elmo's Song" is used as the opening theme for "Elmo's World."
Other appearances
An instrumental version of the song is also used in the opening theme for Sesame Amigos.
In 2018, an animated lyric video of the song was published to the Sesame Street YouTube channel. The video stars Elmo, Big Bird, and Snuffy performing the song onstage with Grover conducting. Audience members include Telly Monster, Ernie, Bert, Rosita, Abby Cadabby, and Cookie Monster. (YouTube) A side-by-side comparison with the original version was uploaded in 2020. (YouTube)
Releases
Audio
Video
Online
Publications
Stage shows