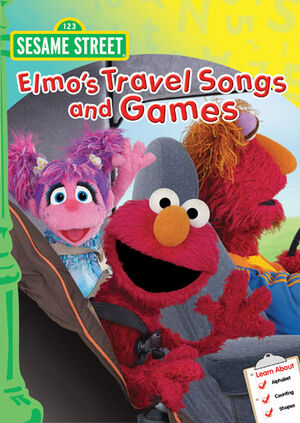 | | |
| --- | --- |
| Release Date | May 3, 2011 |
| Produced by | Warner Home Video |
| Catalogue no. | SS00217 |
| Format | DVD |
| Discs | 1 |
| Region | 1 |
| ASIN | |
Elmo's Travel Songs and Games is a Sesame Street DVD released in 2011.[1] The video was written by Christine Ferraro and directed by Scott Preston.
"

Take a road trip with Elmo! Elmo and Abby are so excited to go to the zoo with Elmo's Dad, but it will take awhile to get there. What can they do to pass the time while they are in the car? This video is full of songs and games that will engage your child when you are traveling too! Featuring the new songs "Go Before You Go" and "Are We There Yet?", there are segments about buckling up and different types of transportation. Numbers and counting, letters and the alphabet, shapes and rhyming are the focus of many of the fun games Elmo and Abby play, and they give great ideas of other games you can play by looking out your window. And everyone will love to sing along with favorites such as "Let's Go Driving" and "The Bear Went Over the Mountain". Elmo's Travel Songs and Games is so much fun, you won't wait for a trip to watch it!

"
Segments
Song: "Go Before You Go"
Abby and Elmo pretend to drive cars.
Films: Looking for rectangles, triangles and other shapes in the city (Maria's voice-over replaced)
Song: "I'm in Great Shape"
Animation: The Twiddlebugs try to fix their flat tire.
Animation: Cecille sings "I'm Gonna Get to You." (no intro, new sound effects)
Film: A girl narrates a film of herself taking the bus home with her dad. They play a game where she points to things and identifies them.
"Forty Blocks from My Home" (inter-cut with Elmo and Abby)
Baby Bear appears in "The Bear Went Over the Mountain."
Animation: Kids see different objects in the clouds, including a train, a drum and a tiger.
Film: The letters of the alphabet are found in signs all over the city. (voice-over replaced)
Animation: The letter M in store signs. (voice-over replaced)
Animation: "Alphabet Town"
Song: "We Got a Hip-Hop Beat" #8
"Goin' for a Ride" (played during the credits)
Promotions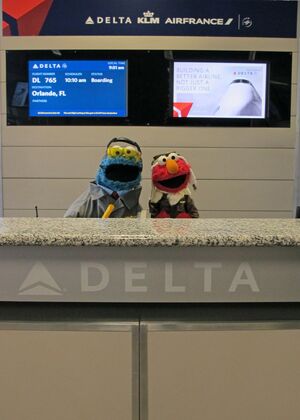 Characters from Sesame Street appeared at several airports in May 2011 to help Delta Air Lines kick off the summer travel season and promote the release of the Elmo's Travel Songs and Games DVD. The Muppets made gate announcements, greeted fans and took photos with the Delta customers. Additionally the DVD will be shown as part of Delta's in-flight entertainment on certain flights between June and August.
On May 3, 2011 Elmo appeared on Late Night with Jimmy Fallon to promote the release.
Trivia
Abby's needing to use the bathroom proves a point that Elmo made in Elmo's Potty Time, "no matter who you are, when you gotta go, you gotta go."
Wal-Mart sells the DVD packaged with an Elmo t-shirt.
The Australian edition of the DVD has included the "Beat the Time" sketch featuring Elmo.
International releases
See also
Sources
Community content is available under
CC-BY-SA
unless otherwise noted.