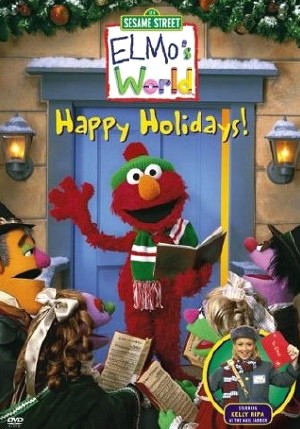 Elmo's World: Happy Holidays! is a 2002 Sesame Street direct-to-video special -- a one-hour edition of "Elmo's World" that explores the traditions of Christmas, Kwanzaa and Chanukah.
Kelly Ripa guest stars as Mail Carrier Kelly, who brings Elmo a series of cards.
The special also includes a pageant of the Nativity story, featuring Natasha as baby Jesus, Bert as Joseph, and Rosita as Mary.
The Kwanzaa segment shows Tyler James Williams and his family, celebrating the holidays.
The special aired on PBS during the 2002 holiday season after it was released direct to home video in September. It also aired on PBS Kids Sprout on December 3, 2010 and December 20, 2011.
Releases
Cast
With Special Appearances By
Credits
Executive Producer: Karin Shiel
Co-Executive Producer: Kevin Clash
Supervising Producer: Carol-Lynn Parente
Coordinating Producer: Karen Ialacci
Segment Directors: Ted May, Jim Martin
Written by: Christine Ferraro
Elmo's World Digital Puppetry: John Tartaglia, Matt Vogel, Jim Martin
Senior Muppet Consultant: Kevin Clash
Jim Henson's Muppet Workshop: Ed Christie, Mike Schupbach, Heather Asch, Fred Buchholz, Victoria Ellis, Sarah Iams, Connie Peterson, Jason Weber
Music Director: Mike Renzi
Music Coordinator: Danny Epstein
Vocal Coach: Dave Conner
Costume Designers: Bill Kellard, Terry Roberson
Set Decorator: Nat Mongioi
Production Designer: Bob Phillips
Graphic Designers: Mike Pantuso, Pete Ortiz
Associate Director: Tim Carter
Sound Effects: Dick Maitland
Audio: Blake Norton, Carla Bandini-Lory
Cameras: Frank Biondo, Jimmy O' Donnell, Jerry Cancel, John Meiklejohn, Larry Solomon, Ron Washburn
External links