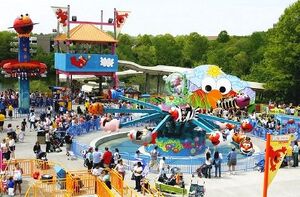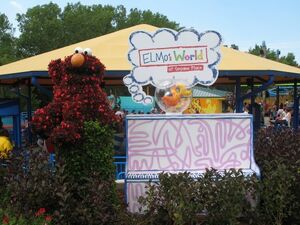 Elmo's World is a themed area of Sesame Place in Langhorne, PA. The area opened to the public on May 6, 2006. The 21,000 square-foot area within the park is themed, and named, after the Elmo's World segment on Sesame Street. Visitors enter Elmo's World through "Elmo Walkway" and enter a crayon-colored world. The area features three Elmo-themed rides and the only "dry area" in the water park.
Robert J. Caruso, executive vice president and general manager of Sesame Place, was quoted in several press releases saying:
"

Surveys from Sesame Workshop clearly rank Elmo's World as the most popular segment of the show. We have always made it easy for the guests to meet and take pictures with Elmo and enjoy watching Elmo perform on the stage and in the parade. We know from our stage show Elmo's World Live!, guests still can't get enough of Elmo. In fact we are increasing the number of daily performances. Adding Elmo-themed rides in an Elmo's World play land provides more exposure for children to enjoy their favorite character.

"
In 2011 a new ride, Elmo's Cloud Chaser, was added to the area.
Rides
Flying Fish
Flying Fish takes visitors soaring an imaginary ocean in an Elmo-inspired fish. The fish are attached to long arms that are raised and lowered as they travel around. The ride is similar to Disneyland's famous "Dumbo the Flying Elephant" ride, only with Elmo-fish instead of elephants. Riders under 42" must be accompanied by an adult.
Blast Off
Riders are "on a mission to Planet Elmo". The ride straps riders in as they bounce up to the sky and back down to Earth. Riders under 42" must be accompanied by an adult.
Peek-A-Bug
Peek-A-Bug is a ride where visitors ride an Elmo-inspired caterpillar-like bug in Elmo's garden. The ride is basically the traditional "rocking ship" ride with a Elmo-bug design and a giant Elmo peering over the surrounding giant plants. Riders under 42" must be accompanied by an adult.
Elmo's Cloud Chaser
Elmo's Cloud Chaser is a swing ride located in the "Elmo's World" section of Sesame Place. The ride was launched on the park's annual Day for Children with Autism, April 22, 2011.
Videos
Promotional Art
Community content is available under
CC-BY-SA
unless otherwise noted.