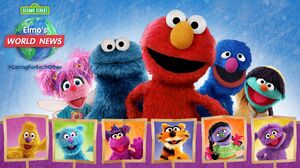 Elmo's World News is an international Sesame Street special that premiered in summer 2020 across multiple platforms and broadcasters in over 15 countries. It is a co-production between Sesame Workshop and the Lego Foundation. Each version of the special contains different correspondents depending on the region it airs in.
Press description
Releases
Bangladesh (all June 27): Deepto TV at 7:45 am, Duronto TV at 1 pm, RTV at 5:30 pm, Bangla TV at 5:30 pm, Maasranga TV at 6:30 pm, Bijoy TV at 9 pm and BTV at 09:30 pm[1] It was also broadcast by the YouTube channel of The Daily Prothom Alo, a newspaper based in Dhaka. (YouTube) This version features correspondents Tuktuki and Halum.
In the United States, the special debuted on YouTube on July 10, 2020. (YouTube) This version features correspondent Abby Cadabby. The special's only American television broadcast was on American Forces Network, a TV channel meant for military families.
Mexico's Azteca 7 aired the program on August 2 at 11:30 am, as Las Noticias del Mundo con Elmo.[3]
Credits
Executive Producer: Scott Cameron
Supervising Producer: Melissa Dino
Senior Director of Media Operations: Veronica Wulff
Senior Producer: Karyn Leibovich
Producers: Kara Koch, Ashmou Younge
Directed by: Matt Vogel
Assistant Director: Ashmou Younge
Writters: Scott Cameron, Veronica Wulff, Kara Koch
Curriculum and Content Team: Fatima Abdelwahab, Abigail Bucuvalas, Ph.D., Deborah Rodriguez Garcia, Shanna Kohn
Sesame Street Muppet Performers: Jen Barnhart, Tyler Bunch, Ryan Dillon, Hind Jaal, Eric Jacobson, Haley Jenkins, Sayma Karim, Rocío Lara, Nowar Mahayri, Boitumelo "Betty" Maretele, David Rudman, Khalid Hassan Rumee, Nyanga Tshabalala, Nozizwe Zulu, Leslie Carrara, Kevin Clash
Vice President Special Project Production: Jodi Nussbaum
Music Director: Bill Sherman
Music Director (Vocals): Paul Rudolph
Music Coordinator: Tyler Hartman
Music Editor: Tyler Hartman
Composers: JP Rende, Kathryn Raio, Bill Sherman
Lyricist: Christine Ferraro
Insert Lyricist: Mark Radice
Special Thanks to: The Jim Henson Company NY Creature Shop, Nasrin Akter, Shah Alam, Mary An, Estee Bardanashvili, Taska Carrigan, Erica Carter, Carolina Casas, Sarah Chasin, Flor Colato, Cailey Cron, Ghada Dahabreh, Jessica Disalvo, April Drummond, Terri-Sue Fraser, Khaled Haddad, Whit Higgins, Nayda Hossain, Laila Hussein, John Jepsen, Erika Jooste, Mostafa Kamal, Lewis Kofsky, Danny Labin, Lara MacLean, Chloe Mead, Nick Motwani, Innocent Nkata, Ayobisi Osuntusa, Andrea Palumbos, Sal Perez, Dennise Planas, Shari Rosenfeld, Noah Rudman, Phoebe Rudman, Hallie Ruvin, Sukhna Sawhney, Mathu Subramanian, Sherrie Westin, Sazia Zaman, Hero4Hire
See also
Sources
External links