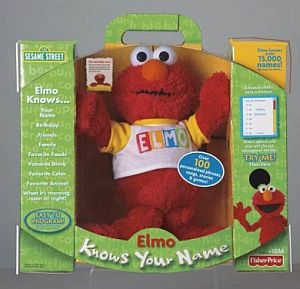 Elmo Knows Your Name is a Sesame Street talking electronic plush toy made in 2005 by Fisher-Price. Programmable through a USB connection to a PC (Windows 2000 or XP operating systems only), Elmo is capable of saying 100 personalized phrases and sentences, reflecting childrens' names, birthdates, family, and personal interests.
As of launch, the toy could say over 15,000 names, including "Ba Kendra", "Bozo", "Chewbacca", "Cuauhtemoc", "Daidai", "Dedodyedo", "Deduskodyedushko", "Eideard", "Jahmonique", "Loyloy", "Shakeema", "Starbuck",[1] "Schwestertein", "Sequita", "Sestrickurhacek", "Slaughter", and "Salmon". It did not contain some more common names, like "Brayden", "Ross", "Rose" and "Rianna".[2]
There were also Winnie the Pooh, SpongeBob SquarePants, and Dora the Explorer toys in the line; Pooh has since been replaced by Dora's cousin Diego.
An Elmo Cell Phone version was released in 2007. The cell phone was also programmable through the Fisher-Price website, and offered personalized voice mail messages from Elmo and his Sesame friends. Elmo would also chat about the weather. The toy featured sound effects and five ringtones.
See also
Sources
↑ "Elmo Does NOT Know Livie's Name", The Lotterhos Family blog, November 28, 2007.
↑ Sarah Gilbert, "Elmo knows your name... well, except you, Rose, and you, Rianna", Parent Dish, December 12, 2005.
External links