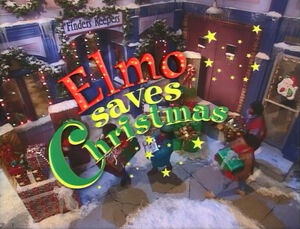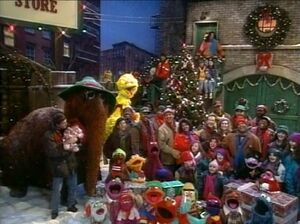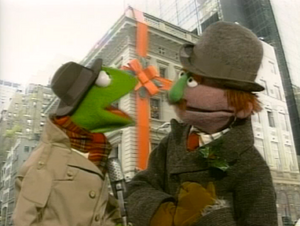 Elmo Saves Christmas is a Sesame Street Christmas special which originally aired on PBS in 1996, and was released to VHS that same year. It was released on DVD in 1997.
Plot
The story is framed by Maya Angelou recalling the events to Telly, Zoe, Baby Bear and some children. It's Christmas Eve on Sesame Street, and Elmo plans to stay up all night and see Santa Claus descend from the chimney. Elmo falls asleep, but he wakes up when Santa becomes stuck. Elmo nobly pulls Santa out of the chimney, and they find the cause of the extra mass: a stowaway reindeer-in-training named Lightning. Santa rewards Elmo with a choice of two gifts: a pink bear or a magical snowglobe. Elmo likes the bear, but chooses the snowglobe when he learns it can grant him three wishes. To use the snowglobe's power, Elmo needs to make a wish, shake the snowglobe, and say "Blitzen." Elmo tests it out by wishing for a glass of water, but Santa advises him not to waste his other wishes.
The next day, Elmo notices how happy Christmas makes everyone feel and decides next to wish for Christmas every day. At first, everyone on Sesame Street is thrilled about it being Christmas again, thanks to a news report given by Kermit the Frog. However, Santa returns from the North Pole and tries to convince Elmo that Christmas wouldn't be as special if it was every day. Santa brings along Lightning, fitted to a special sleigh to take Elmo to the future, so he can see what Christmas would be like at different times of the year. As the seasons change, Elmo sees everyone's Christmas spirit diminish: Big Bird mopes over Snuffy spending the holiday with his granny in Cinncinati; Grover struggles to sell Christmas trees which have become an endangered species; and Maria and Luis are tired of celebrating and backlogged with broken toasters to repair. Meanwhile, Santa's elves are fatigued and end up producing a cow-bunny combination called the "Moo-Bunny," and other holidays—like Easter and Independence Day—are overshadowed. As everyone else's happiness wanes, Oscar the Grouch naturally delights in the mounting Christmas trash and the endless repeats of It's a Wonderful Life.
Elmo travels to December 25th, a year after that first fateful Christmas, and is shocked to find how cheerless Sesame Street has become. The Fix-It Shop and other businesses have permanently closed; Count von Count stops counting Christmases after 365 straight days; Bob and other carolers have lost their voices from singing so much; even Santa is about to retire and move to Florida. Elmo realizes his mistake and decides to use his third wish to undo his second. However, he shakes the snowglobe so much, it flies out of his hands and breaks before he can finish making his wish, which means it will be Christmas forever. All looks lost, until Elmo suggests that Lightning can fly him back in time to the Christmas Eve when it all started. They return to when Elmo pulls Santa from the chimney, and this time, Elmo winds up with the Moo-Bunny. Impressed with Lightning's work, Santa offers to teach him how to be one of his reindeer. As the special ends, Snuffy surprises Big Bird and reveals that his granny is visiting Sesame Street instead. They join the rest of the cast convened around a Christmas tree in the arbor singing "Keep Christmas with You (All Through the Year)."
Songs
Video releases
International releases
Characters
Muppets
Background Muppets
Cast
Credits
See also