Songs from
Released
2001
Format
CD, cassette
Label
Sony Wonder
Cat no.
LK 85328 (CD)
LK 85329 (CD)
LT 85328 (cassette)
LT 85329 (cassette)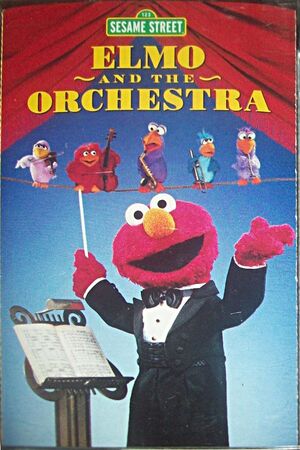 In Elmo and the Orchestra, Big Bird and the Birdapest Symphony Orchestra try to help Elmo remember his favorite piece of classical music, by playing a wide variety of classical songs for him. As the pieces are played, different instruments and parts of the orchestra are highlighted. This album won the Grammy Award for Best Musical Album for Children in 2002.
Track listing
Introduction
Mozart - Symphony No. 40
Paganini - 24 Caprices Opus No. 1
Khachaturian - Sabre Dance from the Gayneh Ballet
Mozart - Eine Kleine Nachtmusik
Grieg - Morning Mood from Peer Gynt Suite No. 1
Handel - Alla Hornpipe from Water Music
Brissette & Mitchell - J'aime Percussion
Chopin - Waltz Opus 64, No. 1 (Minute Waltz)
Mozart - Piano Concerto No. 21
Beethoven - Thunderstorm from Symphony No. 6
Rimsky-Korsakov - Flight of the Bumblebee
Saint-Saens - The Swan from The Carnival of Animals
Tchaikovsky - Dance of the Sugar Plum Fairies from The Nutcracker Suite
Offenbach - Can-Can from Orpheus in the Underworld
Brahms - Lullaby, Opus 49, No. 4
Haydn - Symphony No. 94 (Surprise)
Strauss - The Blue Danube, Waltz
Beethoven - Symphony No. 5
Cast
Credits
Album Produced by Ed Mitchell
Script by Sarah Albee
Orchestral Performances by the Northwest Sinfonia
Orchestra Conducted by Norman Mamey
Concertmaster/Orchestra Contracted by Simon James
Associate Production by Charlie Brissette
Music Recorded and Mixed by Jimmy Hoyson, Assisted by Sam Hofstedt at Studio X, Seattle
Vocals Recorded by Joe Castellon at Master Sound Astoria
Album Edited and Mixed by Ric Wilson at Digisonics
Mastered by Vic Anesini at Sony Music Studios, New York City
A&R by Rynda Laurel
Art Direction by Kim Riordan
See also
External links
Community content is available under
CC-BY-SA
unless otherwise noted.