Kevin Clash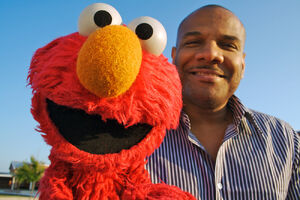 On November 20, 2012, during the 44th production season of Sesame Street, Kevin Clash resigned from Sesame Workshop, effectively ending his nearly three-decade association with the company and his tenure performing his best-known character, Elmo. Clash's last known public performance as Elmo occurred twenty days prior, for a radio interview with WNYC on October 30, 2012.
Clash had already filmed several Street scenes and segments for the then-upcoming season. Additionally, he recorded guide vocal tracks to accommodate filming of remaining episode storylines starring Elmo, who was operated in these instances by other puppeteers.[1] Clash also prerecorded several Elmo appearances outside of the series, as well as voice clips for the Big Hugs Elmo toy which would be released the next holiday season.
Season 44
Appearances (2012-13)
Ryan Dillon
After an internal audition process, Ryan Dillon was tentatively cast as Elmo's new performer. Dillon's first public performance as the character was a live appearance at The White House Easter Egg Roll on April 1, 2013. One month earlier, Peter Linz voiced the character in audio commissioned for the grand opening ceremony of the Spaghetti Space Chase dark ride at Universal Studios Singapore, synced by an Elmo walk-around. Linz clarified in a Facebook post that the recording was a one-time performance.
During 2013, Dillon performed Elmo in a number of ancillary appearances, and for the remainder of material shot for season 44, including most of the Word of the Day segments.
Season 44
Appearances (2013)
Sources
See also