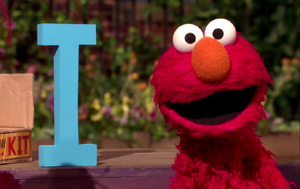 One of Elmo's most distinctive traits is always referring to himself in the third person, a mannerism that can be traced to the character's early appearances in Season 16, and which became more consistent the following season. Since then, there have still been occasional instances of Elmo saying "I," "Me," and "Myself."
Scene 4: "That's from Elmo's number collection. Yeah, I call it '3'."
Scene 5: "Y'know? It's a good thing I have a lotta drawings to choose from for the Monster Art Show. Everybody loves them so much, I've given a few away."
Songs
Books
Acknowledgements of the speech pattern
Elmo is asked about his third person habit in a 2010 "Ask Elmo" video. He claims to get asked that a lot and says he was just born that way.
In a May 2011 appearance on Late Night with Jimmy Fallon, Elmo sings a portion of "His Eye is on the Sparrow," realizing afterwards that he said "me." He adds that he only says "me" in song.
In episode 4270, Detective Alfie Betts (Adam Rodriguez) is able to deduce many things about Elmo upon meeting him, including knowing he always speaks in the third person. "Elmo does?" he replies.
In ABCs with Elmo, Professor Grover sets up a lesson on the alphabet. When wondering what letter follows H, Elmo states, "I." Grover is shocked, having never heard Elmo speak in first-person before.
Notes
International dubs and co-productions, such as Germany's Sesamstrasse, have Elmo speaking in the first person, exclusively.