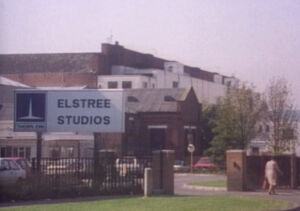 Historically, the name "Elstree Studios" has referred to several film studios that were based in the town of Elstree and Borehamwood in Hertfordshire, England. Most of these studios are now closed, and the phrase is commonly used as the name of Elstree Film and Television Studios, a privately run production facility owned by Hertsmere Borough Council.
The Jim Henson Company filmed several movies at the studio, and The Muppet Show was filmed at one of the Elstree studios in its ITV days. George Lucas was also a regular at the studio, making the Star Wars and Indiana Jones films at Elstree.
Walk of Fame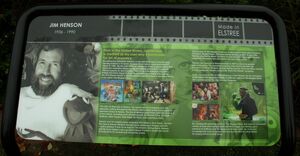 In 2011, the Elstree area established its own "Walk of Fame", similar to the Hollywood attraction.[1] A series of stars set in the pavement include one for Jim Henson, which is accompanied by a plaque showcasing highlights from his career dedicated in 2015.[2] The star is in the general area of the Station Road entrance to the Elstree & Borehamwood Station, while the plaque is closer to the corner of Allum Lane near the roundabout.[3]
Henson Productions
Other Productions at Elstree
Sources
External links