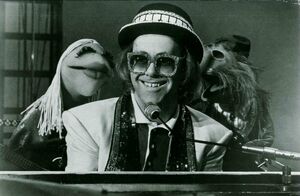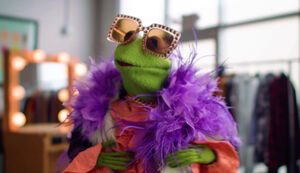 Pop and rock megastar Sir Elton John (b. 1947) was the guest on The Muppet Show episode 214. On the show, he performed four of his hits: "Crocodile Rock," "Bennie and the Jets," "Goodbye Yellow Brick Road" and "Don't Go Breaking My Heart." He also appeared in Lady Gaga & the Muppets' Holiday Spectacular.
John's flashy onstage persona partly inspired Dr. Teeth's groovy look. Michael Frith's original sketch for Dr. Teeth has the heading "Leon 'Doctor' Eltonjohn Dontshoot (the Piano Player)."
John is ranked as one of the best-selling solo artists of all time, with over 60 million albums sold worldwide. He performed and co-wrote songs for Disney's The Lion King in 1994, and won the Best Song Academy Award for "Can You Feel the Love Tonight." His 1997 re-recording of "Candle in the Wind" for Princess Diana is the world's best-selling single of all time. He was inducted into the Rock and Roll Hall of Fame in 1994, and was knighted by Queen Elizabeth II in 1998.
In February 2016, when he appeared on Carpool Karaoke with James Corden, the pair donned flamboyant accessories to sing "Crocodile Rock" and John remarked that it reminded him of the Muppets. (YouTube)
References
In The Muppet Show episode 106, Kermit introduces Fozzie as "the man who thinks that Elton John is a singing bathroom."
In his book Before You Leap, Kermit says his mother booked Elton John into the local theatre, the Bayou Bijou. While there she introduced John to the crocodile that inspired "Crocodile Rock."
When asked about their musical influences during an interview to promote The Muppets, Dr. Teeth said, "Personally speakin' I gotta shout out to the great Dr. John, as well as the inestimable Elton John and the inextinguishable Liberace."[1]
Kermit dresses as Elton John in a 2018 video for Omaze.
Sources
External links
Community content is available under
CC-BY-SA
unless otherwise noted.