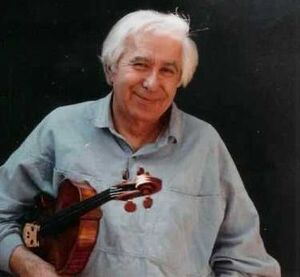 Emanuel Vardi (1915-2011, sometimes credited as Manny Vardi) was a renowned violist (and also a violinist) who was heard on several Sesame Street albums in the 1970s and early 1980s. On the 1981 album Big Bird Discovers the Orchestra, he provided the musical "voice" of Viola Vivaldi.
Born in Jerusalem, Israel, Vardi moved to the United States of America as a child. He studied piano and violin and attended Juilliard for a time, but his work with the viola, bringing greater attention to it as a solo instrument, made the greatest impact. He gave his first viola recital in 1941, and performed on radio as a member of The NBC Symphony Orchestra (under the direction of Arturo Toscanini and distinguished guest conductors). The debut of Stanley Bate's "Concerto for Viola and Orchestra" occurred on the program, with Vardi as the viola soloist.
Not all of Vardi's work was classical, however, and he was much in demand as a freelance musician backing jazz, pop, and folk artists, including George Benson, Louis Armstrong, Carol Hall, Luther Vandross, Aretha Franklin, Tony Bennett, and Judy Collins. Vardi retired from playing after 1993, due to a torn wrist and rotator cuff, and switched to painting. Other accomplishments included occasional film work as a composer or conductor (including George Romero's 1981 movie Knightriders) and he can be heard in the orchestra on the original Broadway cast album Les Miserables.
Discography
External links
Community content is available under
CC-BY-SA
unless otherwise noted.