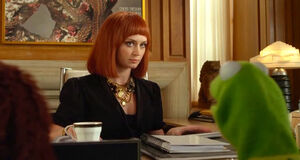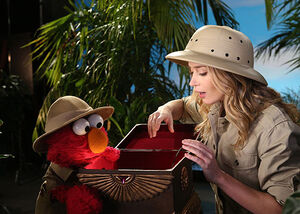 Emily Blunt (b. 1983) is an English actress best known for her role in The Devil Wears Prada (with Anne Hathaway and Meryl Streep). Blunt appears as Miss Piggy's receptionist at Vogue Paris in the film The Muppets, the first movie she shares with her husband, John Krasinski.
In between takes, Blunt recorded footage on the set of the Muppeteers staying in character with their puppets. Joseph Gordon-Levitt explained, "The Muppeteers never stop, they don't break character and when it's in between takes and you're just waiting around... she (Blunt) showed me this footage of Kermit and Rowlf just waiting... and Rowlf was on a BlackBerry... The Muppeteer was sitting there manipulating Rowlf so that he was, like, on his BlackBerry, and then you hear the AD (assistant director) say, 'OK Kermit and Rowlf...' and they perk up and kind of get into character... I think it's awesome."[1] Blunt also appears in behind-the-scenes footage in the home video release of the film, in Scratching the Surface.
Blunt's role in The Muppets is very similar to the character she plays in The Devil Wears Prada. In an interview on The Marilyn Denis Show, Jason Segel says she's reprising the role.
Blunt appears in a Word of the Day segment for Sesame Street's 45th season, presenting the word "explore" with Elmo.
Among Blunt's other credits are lending her voice to an episode of The Simpsons and the feature film Gnomeo & Juliet and appearing in the feature films Sunshine Cleaning (with Amy Adams), Charlie Wilson's War (with Tom Hanks and Julia Roberts) and Gulliver's Travels (with Jack Black and Jason Segel).
Sources
↑ Joseph Gordon-Levitt Stunned By Emily Blunt's Muppets Footage Contact Music, Aug 16, 2012
External links
Community content is available under
CC-BY-SA
unless otherwise noted.