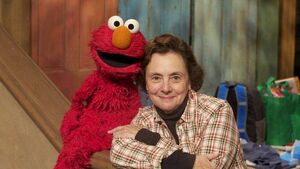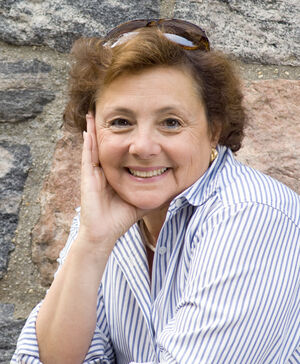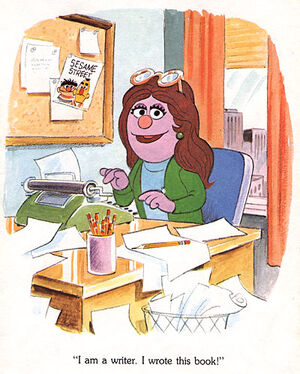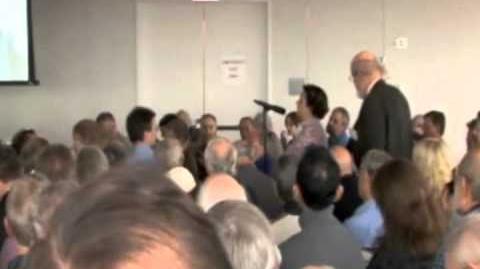 Emily Perl Kingsley (b. 1940) is a writer who joined the Sesame Street team in 1970, and retired in 2015.[1]
Her son, Jason, was born with Down syndrome in 1974. She wrote a widely read article on the subject, "Welcome to Holland," in 1987, and has been an activist for children with special needs for over 30 years.
Her son's story became the topic of an hour-long NBC special in 1977, titled This Is My Son, and Jason co-wrote the book Count Us In: Growing Up With Down Syndrome. By 1981, the duo was making over 100 appearances a year for various groups.[2] In 1989, her experience raising Jason informed her screenplay for the TV movie Kids Like These which features an appearance by Caroll Spinney as Big Bird and a voiceover cameo by Joan Ganz Cooney.
Though Kingsley had written scripts for disabled children in the past, her experiences with Jason increased her desire to mainstream the use of different kinds of people, including Jason himself in occasional segments, as well as guest stars like Itzhak Perlman and Christopher Reeve, and the integration of Tarah Schaeffer as a full cast member:
"No one looked like my family. They were all so healthy, so perfect. I felt totally isolated, like I had just disappeared. It was something I wanted to change.[3]"
"We had a very explicit segment with Christopher Reeve where he talked about his accident and he showed the children how the wheelchair worked. When I interviewed him, I told him I'd like to use his son in the segment. He asked me to tell him why, to convince him because he and his wife didn't put their son in the media. I explained to him how important it was to show that people with a disability have lives, they are parents, they have spouses, and they have children. They have real lives. He agreed. In the scene, his son says to Big Bird that "We're going to the library," and when his father arrives, he climbs up on his lap, right in the wheelchair, gives him a kiss and says, "Hi Dad!" It demonstrates so clearly the ordinary warm Dad-son relationship between Chris and his son.[4]"
Kingsley has written over 20 children's books, hundreds of Sesame songs, and two Sesame home video releases (Learning to Share and Elmo Says BOO!). She writes for other companies as well, and has contributed to Disney Interactive CD-ROMs of 101 Dalmatians and The Little Mermaid.
She has won 21 Emmys and 9 nominations through her work with Sesame Street, three EDIs (Equality, Dignity, Independence Award) and a Grand EDI from Easter Seals, and an award from the National Theatre of the Deaf.
Kingsley began a more direct foray into puppetry when she performed her piece In a Contemplative Fashion at 2006's O'Neill Puppetry Conference, with puppeteers Amanda Maddock, Ryan Dillon, Lorraine Gilman, and Stefano Brancato.
Credits
Television & Videos
Episodes
Sesame Street episodes written by Kingsley include (an added R indicates a main storyline repeat):
Segments
Sesame Street segments written by Kingsley include:
Books
Other publications
Song Credits
Notes
On some early projects, she is credited as "E. Kaplin" or "Emily Kaplin"
Sources
External links