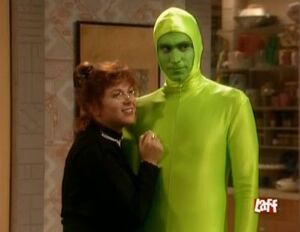 Empty Nest is a sitcom from the producers of The Golden Girls (with periodic cast crossovers), running from 1988 to 1995. It focused on pediatrician Dr. Harry Weston and his adult daughters, who have moved back in with him.
Muppet Mentions
In the first season episode "Strange Bedfellows," Barbara reads in the newspaper that Muppets on Ice is in town.
Later that season, in the episode "My Sister, My Friend," Carol asks Barbara if she can back out of going to Muppets on Ice. "It's just I read where somebody else is going to be playing Kermit, and I just don't think it's going to be the same."
In the third season episode "The Boy Next Door," Carol tells Charley he should be at home watching Sesame Street... they are doing the letter M for moron.
A fifth season Halloween episode is titled "It's Not Easy Being Green," in which Carol has her boyfriend Patrick dress up in a green suit as radium.
Connections
Community content is available under
CC-BY-SA
unless otherwise noted.