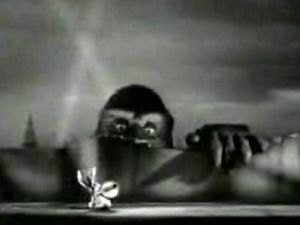 Energizer Batteries is a long-established brand of batteries whose familiar spokescharacter is the Energizer Bunny, a toy rabbit powered by the battery who "keeps going... and going." In October 1993, Energizer launched an ad campaign with a continuing storyline, in which a rival battery company hires several classic movie villains to steal the rabbit's battery.[1] Several of the spots in the campaign, including encounters with Dracula and The Wicked Witch of the West, were directed by Frank Oz.[2] The final spot in the series included a climatic battle with Darth Vader.
One of the cinematic hired guns is King Kong, who has been duped into thinking that the battery tastes like bananas. The ad combines footage from the original film with an animatronic Kong courtesy of Jim Henson's Creature Shop.[3]
Sources
↑ Elliott, Stewart. "Advertising; The Big Three in batteries start up new campaigns." The New York Times. September 29, 1993.
↑ Bacon, Matt. No Strings Attached.