Written by
Traditional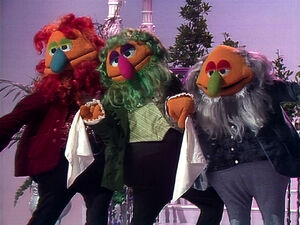 "English Country Garden" is performed as a piano duet by Rowlf and Fozzie as the UK Spot on episode 218 of The Muppet Show. Both are surprised to learn that Fozzie can play piano at all. As the music gets exciting, Fozzie loses his hat:
Rowlf: Can you play hatless?
Fozzie: What?
Rowlf: I say, can you play hatless?
Fozzie: I don't know, who wrote it?
At the end of the number, Fozzie knocks Rowlf off the piano bench with a dramatic glissando.
The song would be used again for a dance number by the Trolls in episode 416. The same music from this version is faintly heard during the unseen Dancing Sacks act in episode 504.
Notes
Releases
Video