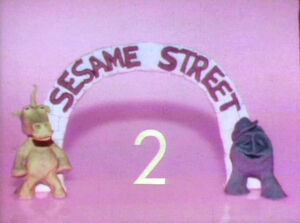 Picture
Segment
Description

SCENE 1
Gordon wants to show Ronald an example of something that's round. He asks Oscar if he can use the lid from his trash can, but Oscar grumpily declines, so Gordon uses a nearby lid instead. Gordon points to the following film segment, which has a lot of other round things …

Film
"Round": A live-action film set to a lively soundtrack shows circles in every-day life, including Coca-Cola bottle caps, moving wheels, yo-yos, bubbles, and balloons.

SCENE 2
Bob asks Oscar if he's seen Gordon. Oscar complains that he's been bothered two times in two minutes today, which Bob observes isn't that many times.

Film
"Two Song (Song of Two)"
(First: Episode 0001)

SCENE 3
Mr. Hooper is the third one to bother Oscar when he throws some trash in his can. Oscar decides once and for all to leave Sesame Street and wonders out loud if anyone's listening.




Film
A film of things that make sounds, including birds, farm animals, vehicles and footsteps. Is silence a sound?

SCENE 4
Gordon and Ronald take some objects out of a box and sort them by shape. The objects include circles, triangles, rectangles, and squares (and a book which will be read later).

SCENE 4
cont'd
Gordon checks on Oscar, who seems to be missing.

Cartoon
"E Imagination": A surreal story of a boy eating a peach atop an eagle witnessing a queen on her knee, dreaming of eating ice cream in a land of steam.
Artists: The Hubleys
(First: Episode 0001)

SCENE 5
Gordon has no idea where Oscar is. He encounters Bob and some kids, holding some chihuahua puppies and feeding them.

SCENE 5
cont'd
Mr. Hooper encounters a large box wrapped in blue paper. He and Gordon unwrap the box and find another box inside it. Gordon wonders if Bert and Ernie can help them …




Muppets
Ernie & Bert — Ernie draws a llama, but Bert says it doesn't look anything like a llama. Ernie asks a filmed llama for advice, but the llama doesn't like it either. So Ernie decides to draw a 3 instead, but he can't remember what it looks like.

Cartoon
"Jazz #3"

Muppets
Ernie draws what looks like a squiggle, so Bert recommends that he watch the 3 film again.

Cartoon
"Jazz #3" (repeat)

Muppets
Ernie finishes his drawing. Bert asks, "You call that a three?" Ernie answers, "No, I call that a tree!"

SCENE 6
Mr. Hooper, Gordon, and the kids have unpacked box after box from the big box and finally come to the last box, which is wrapped in brown paper. They unwrap the box, and out pops Oscar, who was hoping to get some peace and quiet. Gordon assures him that no one will disturb him again; they write on the box "Grouch sleeping. Do not disturb!"

Film
Counting 11 eggs and one cookie.

Cartoon
Speech Balloon: E for egg
A cow hatches a chick, which says "Moo."

Cartoon
"E Imagination" (repeat)

Cartoon
E for elephant, eat, eagle, everybody, empty, and egg.
Voice: Casey Kasem

SCENE 7
Gordon sits on the steps of 123 Sesame Street, quietly grading papers. Oscar, noticeably antsy, confirms with Gordon that he won't be bothered. Gordon, sensing that Oscar wants to be bothered, proposes that they forget about the "do not disturb" rule, and Oscar gladly accepts. Gordon introduces the next segment …

Celebrity
Listen My Brother sings "You Gotta Learn."

Celebrity
Actor James Earl Jones recites the alphabet.

SCENE 8
Gordon shows Ronald how to spell "Jones," which ends with the letter S.

Cartoon
A sprightly seal tells the story of six silly sailors who split up on a see-saw.
Artist: Tee Collins

SCENE 9
S is also for "scale." Gordon shows Ronald how a scale works by using some coffee beans as weights and demonstrates the difference between "more," "less," and "same."




SCENE 9
cont'd
Bob calls them outside to play with a baby gray squirrel. Susan comes home with a new ironing board and doesn't need help carrying it into the house, unlike the two bozos in the next segment …

Cast
Buddy and Jim try to figure out a way to carry an ironing board (horizontally) from one room to another.

Film
"Three Song (Song of Three)."
(First: Episode 0001)

Cartoon
"Wanda the Witch"
Artist: Tee Collins
(First: Episode 0001)




SCENE 10
Mr. Hooper reads Gwendolyn, the Miracle Hen by Nancy Sherman to Jay. The story is about a hen who lays beautiful eggs that help pay the rent.

Cartoon
Speech Balloon: E for egg (repeat)

Cartoon
"E Imagination" (repeat)

SCENE 11
Gordon explains the difference between wild and tame squirrels, then lets the squirrel say goodbye.

SCENE 11
cont'd
Susan announces the sponsors, and the book read on today's show.




CLOSING SIGNS
Mr. Hooper holds up the Sesame Street sign, while Gordon and Susan hold the Children's Television Workshop sign.