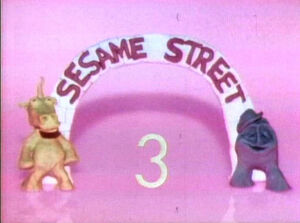 Picture
Segment
Description

SCENE 1
Gordon welcomes the viewer to another swingin' sunny day on Sesame Street. That's a lot of S words.

Cartoon
A sprightly seal tells the story of six silly sailors who split up on a see-saw.
Artist: Tee Collins
(First: Episode 0002)

Cartoon
Clay animation: Sam the Snake-and other things that begin with S
(First: Episode 0001)

SCENE 2
Gordon introduces the next film, which is about what kids are made of. Oscar wants to see a film about what grouches are made of, but Gordon doesn't think anyone cares. Oscar refuses to watch the film.

Song
"What Kids Are Made Of" - a song about body parts.

SCENE 3
Oscar names all the parts of the film that he didn't just watch (or did he?). Oscar doesn't want to play a game or draw a picture, or hear Bob sing a song.

Muppets
Bob sings "Good Morning Starshine" with a group of hippie Anything Muppets. Bob notices the sun rise -- the beginning of a new day.




Film
A voice narrates a film about how things begin -- including roosters, buildings, lakes, cups, birthday cakes, trees, and babies.
Portions of this film were later re-edited into "A Little Bit (at the Beginning)".

SCENE 4
Big Bird and Mr. Hooper show the difference between "big", "bigger" and "biggest" with paint cans.




Film
"Big, Bigger, Biggest"
A junior car dealer displays cars of different sizes to people of different sizes.

SCENE 5
Big Bird takes the big can of paint, which costs 35 cents. He gives Mr. Hooper ten cents on account -- "On account of, that's all I've got," he says.

Cartoon
"Count Up Elevator" -- An elevator operator stops at ten floors to pick up passengers, including a witch, a fireman, and a kangaroo. The tenth passenger, a mouse, causes the elevator to overload and explode.

Muppets
Ernie & Bert — Ernie and Bert are watching TV, but Bert gets bored and decides to play a record. Ernie tells him to turn down the volume, but Bert won't, so Ernie drowns out Bert's music by playing the radio. Bert then retaliates by turning on the blender. With all four things running at once, they blow a fuse, causing a total blackout in their apartment. Bert goes outside to fix the fuse box, while Ernie turns off all the things that were running. When the lights come back on, they decide to play cards instead of fight.

SCENE 6
Gordon invites Susan to play football with him and Bob, but Susan politely declines, saying that football is a boys' game.

SCENE 6
cont'd
Indoors, Susan sings "I Enjoy Being a Girl" and plays dress-up with Allison.




SCENE 6
cont'd
Back outside, Susan plays a puzzle game with Allison and the viewer, "Whose Baby Is This?" She then narrates film footage of a baby reindeer taking its first steps. (Music: Joe Raposo)

Cartoon
Clay animation: Sam the Snake-and other things that begin with S (repeat)
(First: Episode 0001)




SCENE 7
Big Bird tries to make a sweater for Susan with the letter S on it in velcro strips, but somehow it comes out as an E. Big Bird is depressed, until Susan shows him how to make an S from an E.

Cartoon
A sprightly seal tells the story of six silly sailors who split up on a see-saw. (repeat)
(First: Episode 0002)

SCENE 8
Mr. Hooper demonstrates his "Super Duper Abracadabra Two Maker", which turns Gordon's dollar bill into the number 2.

Cartoon
Jazz #2
(First: Episode 0001)

Film
"Two Song (Song of Two)"
(First: Episode 0001)

Cast
Buddy and Jim have a difficult time in matching up a pair of tennis sneakers and a pair of heavy workboots with the right boxes.

Cartoon
A boy's jump rope rhyme identifies the parts of his body that hurt - "otherwise I feel fine!"

Film
Body Parts vs. Heavy Equipment: Three boys (including Brian Henson) pretend to be steam shovels, playing in the dirt. This segues into footage of real construction vehicles. A parallel is drawn between the machinery and how the boys' arms and mouths work.

Animation
Clay animation: "E" for eat, ear, echo, egg, eagle, eel, elephant and end.

Muppets
Anything Muppets dressed as hippies sing a special rendition of the Beatles' "Lucy in the Sky with Diamonds". The segment ends with the girl telling the lead hippie that it's not Lucy in the sky with diamonds, it's Wanda the Witch.

Cartoon
"Wanda the Witch"
Artist: Tee Collins
(First: Episode 0001)

Muppets
Ernie & Bert — Ernie finds an egg on the counter. Bert asks him to put it away so he can eat it later. Ernie doesn't understand why. Bert sighs, "Drop it!"... and Ernie does.

Cartoon
"Egg Chant": A girl skips rope as a boy sits with an egg on his knee. They recite an alphabet poem together. The egg hatches and a dancing lizard emerges.

Film
"Three Song (Song of Three)."
(First: Episode 0001)




SCENE 9
Gordon, Bob, Susan and the kids find a red string that someone has unwound across Sesame Street. The string leads to a ball that Big Bird is holding. Big Bird closes the show with a bad joke, and Gordon signs off. Mr. Hooper announces the sponsors.




CLOSING SIGNS
Bob holds up the Sesame Street sign, while Mr. Hoope holds the Children's Television Workshop sign.