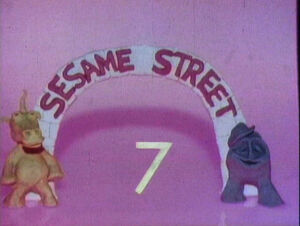 Picture
Segment
Description




SCENE 1
Gordon, Bob, Susan and Mr. Hooper sneak up on Oscar and surprise him for his fifth birthday. Oscar has no idea what they mean when they ask him if the number 5 means anything to him.

Film
Five Song (Song of Five)
(First: Episode 0006)

Cartoon
Jazz #5

SCENE 1
cont'd
Susan comes out with a birthday cake for Oscar. They all sing "Happy Birthday to You," and Oscar blows out the candles after wishing they'd all scram.

Film
Five Song (Song of Five) (repeat)

Cartoon
Jazz #5 (repeat)

Film
There Once Was a Hand: Skip Hinnant narrates the story of an unhappy hand that wishes he could make a noise.

SCENE 2
Gordon attempts to fold some of Susan's blankets. He has difficulty doing it by himself, so Susan comes outside to help him.

Cast
Buddy and Jim struggle with replacing a light bulb.




SCENE 3
Susan reads a book to two kids, At Night by Philip Ressner. Afterwards, she makes sure they know the alphabet.

Cartoon
While fishing one day, a boy catches the letters of the alphabet. Frustrated at not having caught any fish to eat, he decides to use his catch for alphabet soup.
(First: Episode 0004)

Cartoon
A man displays the capital and lowercase A, and explains what an alligator is.
(First: Episode 0006)

Cartoon
A boxer explains the letter "B".
(First: Episode 0006)

Muppets
Ernie & Bert — Ernie complains when a big letter A appears on the TV screen, so Bert turns off the set, unplugs it, and Ernie takes a bunch of A objects out of the TV, including an acorn, apricots, an apron, an ape, and finally a letter A. When Bert plugs it back in, a big letter B appears on the screen.

Cartoon
Speech Balloon: B for Butterfly
(First: Episode 0006)

Cartoon
Speech Balloon: A for Ape
(First: Episode 0006)

SCENE 4
Mauricio says the alphabet for Gordon, and feels happy. Bob and Susan sing "Happiness Is."

Cartoon
"Poverty X": A peanut-shaped figure lists the words that the letter "X" can be found in.
(First: Episode 0006)

Muppets
Ernie & Bert — Ernie asks Bert what his favorite letter is. Bert doesn't have one, so Ernie displays his favorite: the letter X. Ernie says it's also delicious, because every morning he eats bacon and X.

Cartoon
"Poverty X" (repeat)

Transition
Diamond transition




SCENE 5
Bob displays big and small squares, and shows how to make a square using four straight lines. He then shows pictures of a boat and a park, and challenges the viewer to find the squares while he sings "The Square Song".

SCENE 5
cont'd
Bob displays a square and a triangle to introduce the next segment.

Cartoon
A male voice narrates a story of a jazzy triangle who loved to dance, and a square square. The triangle likes being flexible, but the square would rather be stiff and *square*.
Music: "Waltz in Mean Time," David Lee

Transition
Diamond transition (repeat)

Muppets
Ernie & Bert — Ernie wants to have some cookies. Bert asks Ernie if he knows what "before" means, and Ernie demonstrates by saying that before he can have a cookie, he has to open the lid to a cookie jar, and after he closes the lid, he eats the cookie. He demonstrates a few times, until he loses his appetite for dinner.

SCENE 6
Susan encounters Mr. Hooper counting jelly beans while putting them into a jar with a sign on it: "Guess how many beans and win a prize". Susan asks for six rolls of film, and he charges her $3.60. Once he leaves, he empties the jelly beans and starts counting them again.

SCENE 6
cont'd
Outside, Gordon encounters Big Bird, who almost trips over a fire hydrant. Big Bird is angry at the hydrant, until Gordon explains to him what fire hydrants are for.

Film
Water is shown in many forms, including oceans, fountains, and snow.

SCENE 7
Bob comes into Hooper's Store to buy some paper, interrupting Mr. Hooper as he's counting the jelly beans. Mr. Hooper almost gives up on the contest idea, but decides to begin counting once more.

Film
Five Song (Song of Five) (repeat)

Cartoon
Jazz #5 (repeat)

SCENE 8
Mr. Hooper gets up to 840, when he gets a call from someone who dialed the wrong number. He loses count yet again, but still doesn't give up on the contest idea.

Film
Four Song (Song of Four)
(First: Episode 0006)

SCENE 9
Mr. Hooper finally finishes counting the jelly beans as Susan and Gordon enter the store. Susan asks for some pencils and paper clips, and Gordon fools Mr. Hooper into thinking he's eaten some of the jelly beans, but he really hasn't eaten any (whew!).




SCENE 9
cont'd
Gordon signs off. Bob announces today's sponsors (except for 4), and the book read on today's show.




CLOSING SIGNS
Gordon and Susan hold up the Sesame Street sign while Cookie Monster holds up the CTW sign.