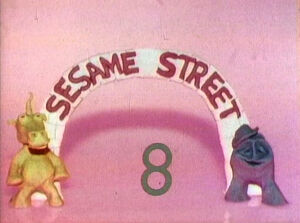 Picture
Segment
Description

SCENE 1
Gordon and Sally are on a B treasure hunt: they've found a ball and a blue box. Mr. Hooper is stumped.

Film
Kids paint pictures of things that start with B.
Producer: Ken Snyder Enterprises

SCENE 2
Mr. Hooper realizes that Big Bird starts with B. He asks Big Bird to come to his store with him, but redacts once he realizes that he's also holding a banana. When Big Bird feels less important than a banana, Mr. Hooper changes his mind again, pointing out that Big Bird is bigger than a banana.

Song
"B is for Bubble."

SCENE 3
Susan has a B word too -- she's bought bread for sandwiches.

Cast
Buddy and Jim make a sandwich.

Muppets
Ernie tries to draw an X, but can't figure out how, so he plays a game of tic-tac-toe instead. Bert sees the cross-outs that Ernie has made, and congratulates him on drawing Xs.

SCENE 4
Susan and the kids sing "If You're Happy and You Know It".

Muppets
Ernie talks about the letter X, until Bert comes in and says his bacon's been eaten by a monster. Cookie Monster emerges and eats Ernie's X, quipping "I always like to eat bacon and X!"

Cartoon
"Egg Chant": A girl skips rope as a boy sits with an egg on his knee. They recite an alphabet poem together. The egg hatches and a dancing lizard emerges.
(First: Episode 0003)

Muppets
Ernie begins to erase his Xs from the blackboard.

Cartoon
A boy counts while erasing things and people.

Muppets
Cookie Monster has just showed up again. Ernie threatens to erase him if he doesn't leave. Cookie Monster just laughs, so Ernie tells him to watch the cartoon of the boy with the eraser.

Cartoon
A boy counts while erasing things and people. (repeat)

Muppets
Cookie Monster still won't leave, so Ernie carries through with his threat and erases him.

SCENE 5
Mr. Hooper shows Gordon and Sally the chair that he's built. Gordon points out that it only has three legs.

Cartoon
Jazz #4
(First: Episode 0006)

SCENE 6
Mr. Hooper brings back the chair, this time with four legs. He has also built a wagon, which Gordon notices only has three wheels.

Cartoon
Jazz #4 (repeat)

SCENE 7
Mr. Hooper has fixed the wagon. He gives Gordon an apple, which begins with the letter A.

Cartoon
A man displays a capital and lowercase A and explains what an alligator is.
(First: Episode 0006)

SCENE 8
Gordon shows the kids a rabbit. The rabbit is an animal, which also begins with A. He then introduces the next segment to the viewers.

Film
A wombat scratches its four legs. (Gordon in voiceover counts how many legs the wombat has)

SCENE 9
Susan plays a game with Arianna in Gordon and Susan's apartment. Arianna closes her eyes, and tries to guess what Susan is doing by listening to the sounds.

Film
"Noises"
A boy named Mark has a pair of magic glasses that helps him listen to the sounds of an ice cream truck, a dog, a horse galloping, a bicycle, and a parrot.

Cast
Bob sings "5 Fingers on My Left Hand" (to the tune of "5 People in My Family").

Cartoon
Jazz #5
(First: Episode 0007)

SCENE 10
Gordon invites the viewer on a trip to the seashore, pointing out that there will be animals to spot.
cut from the Noggin version

Film
"Boy at Beach"
A boy walks on the beach, and sees a sandpiper, a crab, a hermit crab, and other animals.
cut from the Noggin version

Cartoon
Jazz #5 (repeat)
cut from the Noggin version

Muppets
"Five People in My Family"




SCENE 11
Susan and Sally figure out who's short and who's tall; Big Bird shows up and blows them all out of the water. The three of them then take a minute to marvel a flower that Big Bird picked for Susan, to which the latter points out how fun it is to look at one real close, leading to the following segment...

Film
A film shows different parts of a flower.
Music: Vivaldi's Concerto for lute, 2 violins and continuo in D Major II - Largo




Muppets
Gordon asks Ernie to put three balls and a balloon into four small boxes. When Ernie learns the trick, he tries to play the game with Cookie Monster.

Cartoon
B is for bear, bicycle, bump, branch and bee.

SCENE 12
Gordon and Steve pretend to drive various transportation vehicles.

Film
Transportation
(First: Episode 0005)




SCENE 13
Bob shows the kids a lamb. The kids name it Sesame. Gordon tells the viewers that they need to feed the lamb, and signs off. Susan announces the sponsors (except for 4).




CLOSING SIGNS
A group of Muppet hippies (including a bearded hippie) hold up the Sesame Street and Children's Television Workshop signs.