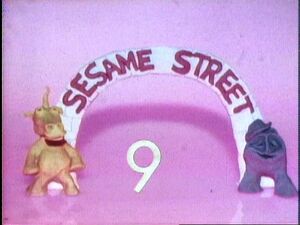 Picture
Segment
Description

SCENE 1
Gordon encounters Bob and Susan looking for a stray cat they found. Gordon assures them that he's really good at catching cats.

SCENE 1
cont'd
Gordon tells Big Bird about the lost cat, and Big Bird immediately starts looking for it, without knowing what a cat looks like (and hoping it's not big and scary).

Cartoon
Clay animation: Sam the Snake-and other things that begin with S
(First: Episode 0001)

Cartoon
A sprightly seal tells the story of six silly sailors who split up on a see-saw.
Artist: Tee Collins
(First: Episode 0002)

Muppets
Ernie & Bert — Ernie, dressed in his football uniform, marches around the apartment reciting his team chant. He tells Bert he's a member of the Dirty Rugs, named such because everyone beats them.

Cartoon
"Jazz #4"
(First: Episode 0006)

Film
Counting 11 eggs and one cookie.
(First: Episode 0002)

SCENE 2
Gordon comes back to his apartment and tells Susan that he still hasn't found the cat. He then shows Susan that the table isn't properly set, and she corrects the problem. Gordon proceeds to make toast for lunch but forgets to put the bread in. They observe that they're both distracted by their search for the missing cat.

Cartoon
"Jazz #4" (repeat)

Muppets
Ernie & Bert — Ernie's friend holds a huge card of a dog in front of his head. Ernie asks Bert how many feet the dog has, and Bert says four. Next, Ernie's friend holds up a card of a table. Ernie asks Bert how many legs the table has. Again, Bert says four. Ernie's friend then holds up a card that shows a four-eyed monster. Ernie asks Bert, "How many eyes can you count on this face?" Bert again says four, but adds that "nothing in the world has four eyes and looks like that." Ernie's friend lowers the card, revealing himself to be the Beautiful Day Monster- with two extra eyes.

Cartoon
"Jazz #4" (repeat)

SCENE 3
Gordon goes outside and asks Mr. Kardwell if he's seen the cat. Mr. Kardwell hasn't seen the cat, but he's seeing triangles everywhere. He finds one in Oscar's trash can, and Oscar takes it back because it's his. More and more triangles pop up in mid-air, and Mr. Kardwell even finds some on Gordon's body.

SCENE 3
cont'd
Gordon encounters Bob with a Capuchin monkey on his shoulder. They sit down, and Bob feeds the monkey a peanut. Bob points out that some monkeys can swing.

Film
A gibbon swings, and an audience cheers when the film ends.
Music: Joe Raposo

SCENE 3
cont'd
At the end of the film, Oscar observes that everyone cheers for cute animals (like the cat that everyone is looking for today), but he prefers ugly animals, like worms.

Cartoon
A worm declares that the word "worm" is the only important word that begins with "W". A walrus retaliates by dumping a bucket of water on it.
(First: Episode 0001)

Cartoon
"Wanda the Witch"
Artist: Tee Collins
(First: Episode 0001)

SCENE 4
Susan and some kids look at drawings of aerial views of objects, to see if they can guess what they are pictures of.

Cast
Buddy and Jim struggle with round and square window frames.

Cartoon
Jazz #5
(First: Episode 0007)

SCENE 5
Big Bird has a surprise for the cat: a bag of marshmallows. Gordon informs Big Bird that cats don't eat marshmallows, and Big Bird learns the hard way about "some," "more," and "all" by accidentally eating some, then more, then all of the marshmallows. Big Bird then gets a stomachache and walks unhappily back to his nest.




SCENE 5
cont'd
Gordon sits on the steps and reads a book, Sam by Ann Herbert Scott, about a boy who gets yelled at by everyone in his family, but things get better in the end. After the story, Gordon says it's important to know your letters, like the letter J.

Cartoon
"The J Commercial:" Two boys scrutinize a J, saying it looks like a fish-hook. A resonant voice (Gary Owens) informs them that it's the letter J. This leads to a jazzy story about Joe. Moral: "Don't jive a judge by jamming a junebug."
Studio: Ken Snyder; Director: Fred Calvert

SCENE 5
cont'd
Gordon demonstrates what a magnet can do, and introduces a film about magnetic cranes.

Film
A magnetic crane picks up large pieces of metal.

SCENE 6
At Hooper's Store, Gordon shows Bob the triangles that Mr. Kardwell found earlier. Bob looks around Hooper's, and also finds many triangles.

Cartoon
"The J Commercial" (repeat)

Muppets
Ernie & Bert — Ernie reads Bert a dramatic story that he's just written. The "story" is actually the alphabet, which Ernie reads in an overwrought manner.

SCENE 7
Bob plays three rounds of "One of These Things" with the viewer. Round one has three foods and a comic book, round two has three items of clothing and an orange, and round three has three vehicle toys and a shoe. Bob introduces a message from the number 4.

Cartoon
"Jazz #4" (repeat)

Muppets / Cast
Gordon is still looking for the lost cat. He then sees four Anything Muppets, who have no eyes and noses. Then Gordon puts on mouse-faces on the Anything Muppets. Afterwards, they sing a round of "Four Blind Mice."




SCENE 8
Mr. Kardwell delivers some groceries to Susan. She counts four carrots, four lemons, four lollipops and four eggs, and Mr. Kardwell finds the fifth of each item behind her hair -- except for the fifth egg, which comes from a live chicken.

Cartoon
Jazz #5 (repeat)

SCENE 9
Gordon asks Oscar if he's seen the cat. Oscar names all the locations he didn't see the cat go (or did he?).

Cartoon
"Jazz #4" (repeat)




SCENE 10
Big Bird feels bad because he still can't find the cat. He tells Susan that he found a little bird with pointy ears and a long tail, which Susan informs him is a cat. Gordon brings over the cat, which is no longer lost, and Big Bird cowers in front of it, until he sees that it won't eat him. Gordon decides to make Big Bird the "keeper of the cats," right as Bob comes by with five more found kittens.




SCENE 10
cont'd
Gordon signs off while Bob and Big Bird watch the kittens eat. Susan announces the sponsors and the book read on today's show.




CLOSING SIGNS
Ernie and Bert hold up the Sesame Street sign, while Cookie Monster holds up the Children's Television Workshop sign.
Notes
Oscar is rebuilt for this and Episode 0010, this time with an arm (he had no limbs before). Oscar would be rebuilt yet again, and this puppet was used from Episode 0011 until the end of the season.