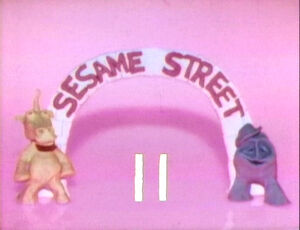 Picture
Segment
Description

SCENE 1
Gordon welcomes the viewer and plans on returning a carton of eggs to Hooper's Store. Why? He asks us to follow and find out.




SCENE 1 cont'd
In the store, Gordon gives Mr. Hooper the carton, stating there's an issue with it. Mr. Hooper counts the supposed 6 eggs, but there's an issue with the sixth - it's a jellybean. There's no eggs left in the store to replace it, so Mr. Hooper provides a six-cent refund.

Film
"Six Song (Song of Six)."

SCENE 2
Big Bird enters the store to complain about his six jellybeans - one of them is an egg!

Cartoon
Jazz #6

Muppets
This part of Sesame Street is now brought to you by...fathers! The Anything Muppets sing about what a father does.

SCENE 3
Carlos and Mr. Hooper play a game to find different round things in the store. This brings up the letter O (which is also round) and the importance of it.

Cartoon
A song about a rolling O
Animation by John and Faith Hubley




SCENE 4
Gordon feels great today and decides to share his bliss with Oscar the Grouch. However, Oscar won't have any of it - he's feeling mad and sad because he was left out of the "O" talk; his name begins with O after all. Mr. Hooper and Carlos walk by so Mr. Hooper can introduce the two, since Oscar's the only person he knows whose name starts with O. Oscar feels grumpier (his version of happy).

Cartoon
A song about a rolling O (repeat)

Muppets
Cookie Monster and Ernie: Ernie is preparing to have a snack but discovers that his milk and cookies keep on vanishing. He eventually catches the culprit, who begins acting affectionately, until Ernie agrees to share his milk and cookies.

SCENE 5
In Gordon and Susan's apartment, Susan and Ariana play a game while they do the dishes, trying to spot as many R-word items as they can.

Cartoon
R is for Rooster, Robber, and Rake...
Artist: Fred Calvert

SCENE 6
Susan and Ariana continue cleaning the dishes. Susan thinks there's a lot to clean around the house...




Film
You can clean almost anything.

The music is Bach's "Gavotte," performed by the Swingle Singers.
(First: Episode 0001)

SCENE 6 cont'd
Susan and Ariana clean the blackboard, which is also called "erasing"...

Cartoon
A boy counts while erasing things and people.
(First: Episode 0008)

Muppets
This part of Sesame Street is being brought to you by mothers. The Anything Muppets perform a song all about the things a mother does.

SCENE 7
Gordon and the kids read One, Two, Where's My Shoe? by Tomi Ungerer, and try to find the hidden shoes in the pictures. He rewards them with some jellybeans, a great J word.

Cartoon
"The J Commercial:" Two boys scrutinize a J, saying it looks like a fish-hook. A resonant voice (Gary Owens) informs them that it's the letter J. This leads to a jazzy story about Joe. Moral: "Don't jive a judge by jamming a junebug."
(First: Episode 0009)

SCENE 8
Mr. Hooper introduces the kids to a Yorkshire piglet, then cues the next segment...

Muppets
This part of Sesame Street is brought to you by kids. Sibling Anything Muppets sing about the roles they play in the family.




Film
A film of things that make sounds, including birds, farm animals, vehicles and footsteps. Is silence a sound?
(First: Episode 0002)

SCENE 9
Susan plays "One of These Things" with the kids; the fish doesn't belong amongst the clothing items.

Cartoon
While fishing one day, a boy catches the letters of the alphabet. Frustrated at not having caught any fish to eat, he decides to use his catch for alphabet soup.
(First: Episode 0004)

Film
"Seven Song (Song of Seven)"

SCENE 10
Gordon returns home with a new jacket and is reminded of a similar situation with Buddy and Jim...

Cast
Buddy comes home with a new jacket and Jim tries to find out how to get him to see the large label still on it.

SCENE 11
Mr. Hooper and the kids observe a chinchilla at the Pet Shop.

Cartoon
A man (voiced by Casey Kasem) explains the letter R with a radio. Once he starts singing, the radio decides to turn him off by tweaking his nose.




SCENE 12
Back at Gordon and Susan's, Gordon has Susan fetch him some cream and sugar for his coffee, since she's nearer to the items than he is. He also wants some chocolate cake, but they find there's none in the breadbox. Since Gordon's nearer to the door, Susan makes him go to Hooper's to get some. Just as he's about to leave, Mr. Hooper shows up for a visit, bringing cake with him.




SCENE 12
cont'd
Gordon announces the sponsors, as well as the information on the story read earlier.




CLOSING SIGNS
Mr. Hooper hold up the Sesame Street sign, while Gordon and Susan holds up the Children's Television Workshop sign.