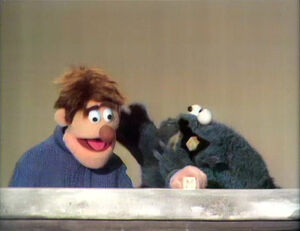 Picture
Segment
Description

SCENE 1
Gordon shows Susan and a kid some picture sequences and has them guess which order the pictures go in.

Muppets / Cast
Bob sings "Good Morning Starshine" with a group of hippie Anything Muppets.
(First: Episode 0003)

Muppets
Ernie & Bert — Ernie demonstrates the word "through" with the help of Beautiful Day Monster and Bert, who holds a hoop.

Film
A group of kids play follow the leader and go over, around and through various obstacles, but one of them takes a while to catch on.
(First: Episode 0001)

Film
Commercial T

SCENE 2
Gordon observes a live goose, and hears a car horn. He says noises aren't anything to be afraid of.




Film
A film of things that make sounds, including birds, farm animals, vehicles and footsteps. Is silence a sound?
(First: Episode 0002)

Muppets
An Anything Muppet man named Jack sings "A, You're Adorable" to his girlfriend, Adrienne, using alphabet blocks to enumerate the ways that he loves her. Cookie Monster shows up and eats the blocks.

Cartoon
A man displays the capital and lowercase A, and explains what an alligator is.
(First: Episode 0006)

Cartoon
Speech Balloon: A for Ape
(First: Episode 0006)

Cartoon
Gloria sings the alphabet (uppercase version).

SCENE 3
At Hooper's Store, Big Bird drinks a soda, and Mr. Hooper asks him for ten cents. Big Bird doesn't have ten pennies, but he does have a dime. Mr. Hooper shows him how to count ten pennies, and ten fingers.

Film
"Ten Song (Song of Ten)"
(First: Episode 0021)

Celebrity
James Earl Jones counts to 10.
(First: Episode 0005)

SCENE 4
Susan and some kids put facial features on a picture of a clown's blank head.




Muppets
Bert says that he and Ernie are looking at the "Mysterious Nose-Snatcher." Ernie, disagreeing, walks closer and closer to the camera to see. His face begins to black out the screen...but when he moves back into view, his nose is missing!
(First: Episode 0005)

Film
Commercial T (repeat)

Muppets
Bob and the Anything Muppets sing "The People in Your Neighborhood": Fireman and Postman.

SCENE 5
Gordon reads a book to the kids: The Circus Baby by Maud and Miska Petersham. He points out the shape of the book: a rectangle.




Film
"Rectangles"
Rectangles in the city and country are shown to a percussion soundtrack.
(First: Episode 0005)

SCENE 6
Mr. Hooper is able to reach something on a high shelf by standing on a box, which is also a rectangle. He has an easier time than Buddy and Jim.

Cast
Buddy and Jim struggle with replacing a light bulb.
(First: Episode 0007)

SCENE 7
Bob holds a puppy, which is an animal. "Animal" begins with "A".

Cartoon
Speech Balloon: T for train
(First: Episode 0022)

Cartoon
H is for horseshoe.
(First: Episode 0020)

Cartoon
Speech Balloon: A for Ape
(First: Episode 0006)

Film
"Ten Song (Song of Ten)" (repeat)

SCENE 8
Gordon signs off and announces the sponsors.
Community content is available under
CC-BY-SA
unless otherwise noted.