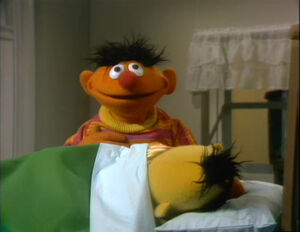 Folk singer Tony Saletan sings "Noah's Ark," "I Had a Rooster," and "Mi Chara".
Ernie and Bert: As Bert takes a nap, Ernie tells the viewer how he knows that Bert is asleep... thus waking Bert up, just to tell him it's time for his nap.
Film: "The Little Baker" -- A boy goes to a bakery and learns how an apple pie is made. (First: Episode 0020)
Kermit's Lectures: Cookie Monster drinks both of Kermit's glasses of milk, which he was going to use to explain "more" and "less". When Kermit insults Cookie Monster, several of Cookie Monster's monster pals gang up on Kermit, prompting him to point out that now there are more monsters and less frogs. (First: Episode 0004)
Film: Different kinds of wheels are shown and what they're used for. (First: Episode 0013)
Cartoon: "Imagination O" -- A surreal story about a boy, a goat, and a bulldozer that closes up a hole in a cloud that blows the cold. (First: Episode 0011)
Countdown series: The rocket lifts early, and showers everyone in soot. (First: Episode 0018)
Countdown series: After countdown, the director himself is launched into space as the rocket stays put. (First: Episode 0018)
Story: "Ask Mr. Bear" by Marjorie Flack
Community content is available under
CC-BY-SA
unless otherwise noted.