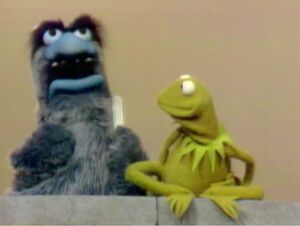 Kermit's Lectures: Kermit talks about hair. According to Kermit, "Hair is a part of you. It is not a part of me, because I am a frog." He points out that some people have hair on their heads, while others have it on their faces. But if you have hair all over your body -- like Beautiful Day Monster" (who emerges brushing himself and singing "A pretty girl is like a melody ...") "-- then you're a monster!"
Film: A boy tells what happens on a fishing boat.
"Egg Chant": A girl skips rope and says the alphabet as a boy sits with an egg on his knee; the egg hatches, and a dancing lizard comes out. (First: Episode 0003)
Film: Two men, Big and Little, travel around playing the tuba and violin. Even though they're different (Big has dark skin, and Little has light skin), together they make beautiful music. (First: Episode 0016)
Cartoon: "Imagination O" -- A surreal story about a boy, a goat, and a bulldozer that closes up a hole in a cloud that blows the cold. (First: Episode 0011)
Cartoon: "Count Up Elevator" -- An elevator operator stops at ten floors to pick up passengers, including a witch, a fireman, and a kangaroo. The tenth passenger, a mouse, causes the elevator to overload and explode. (aired twice) (First: Episode 0003)
Community content is available under
CC-BY-SA
unless otherwise noted.