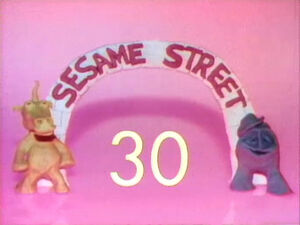 Picture
Segment
Description




SCENE 1
A postal carrier named George (played by Brandon Maggart) makes his way down Sesame Street delivering mail to its residents. Oscar the Grouch pops up from his can and asks if he's got any as the postal carrier leaves mail in Big Bird's nest. Oscar laments over his lack of mail and points out that no one cares. Gordon happens by and says Oscar can have his junk mail if he wants. Oscar accepts and Gordon counts out ten envelopes.

Film
"Ten Song (Song of Ten)"
(First: Episode 0021)

SCENE 2
Big Bird tells the Robinsons he got some mail, and that his Granny Bird is coming to visit. He announces that he'll go get a feather-cut and egg shampoo, and Susan offers to help clean his nest. Gordon points out that a lot of people are cleaning today...
Muppets
Ernie & Bert — (Part 1) Bert tells Ernie to clean up the messy apartment. (First: Episode 0010)

Cartoon
A song about a rolling O
Artists: The Hubleys
(First: Episode 0011)

Cast
Bob talks to Ronald about a honey bear in the arbor.

Cartoon
Z for zipper
(First: Episode 0025)

SCENE 3
Big Bird returns from getting a ducktail cut and greets Gordon reading a map. They talk about near and far, which Big Bird demonstrates, until he backs into a stack of crates.

Muppets
Tony sings "Lulu's Back in Town". Lulu turns out to be the Beautiful Day Monster, with a wig.
Muppets
Ernie & Bert — (Part 2) Ernie has finished cleaning up the apartment, but the toy chest is still a mess, so he throws toys all over the place.
(First: Episode 0010)

Insert
Susan is arranging chairs for a visit with the kids. Gordon says he hopes he has an easier time of it than Buddy and Jim did.

Cast
Buddy and Jim try to play checkers, but they can't get their chairs facing the right direction.
(First: Episode 0014)

Insert
Susan reads What Do You Say Dear? by Sesyle Joslin, illustrated by Maurice Sendak.

Film
"Noises"
A boy named Mark has a pair of magic glasses that helps him listen to the sounds of an ice cream truck, a dog, a horse galloping, a bicycle, and a parrot.
(First: Episode 0008)

SCENE 4
Big Bird asks Mr. Hooper for some Gs: American Gs, Swiss Gs, Granny Bird likes Gs sandwiches. Mr. Hooper tells him he means cheese. Big Bird asks for the Gs cake in the window, but Mr Hooper corrects him again: that's cheesecake. Big Bird produces the cake, which is covered in Gs, and Mr. Hooper packages it up for him.

Cast
Gordon counts to ten with his fingers and says that Burt Lancaster has another way to do it...

Celebrity
Burt Lancaster counts while doing pushups.
(First: Episode 0010)

Cartoon
Speech Balloon: O for Open
(First: Episode 0014)

Cartoon
Alphabet Bates makes the letter O.
(First: Episode 0012)

Cast
Bob sings "One of These Things" in the yard: three small and one large O, three big and one large hand, three long and one short pencil, and three fat wedges and one thin wedge of cake.

Muppets
Ernie & Bert — Ernie shows drawings to Bert, and Bert has to guess what happened. Ernie has a drawing of an empty bird cage with an open door (the bird flew away), and a man lying on the ground with a banana peel next to him (he slipped on it). Then Ernie shows Bert an empty page. The answer to that one is that there was a cow eating grass, but the grass is all eaten now and the cow went home.

Film
A voice narrates a film about how things begin -- including roosters, buildings, lakes, cups, birthday cakes, trees, and babies.
(First: Episode 0003)

Film
Bob narrates film footage of a baby reindeer taking its first steps. (Music: Joe Raposo)
(First: Episode 0003)

SCENE 5
Big Bird tells Bob that he took out his family album in anticipation of Granny Bird's arrival. It's got pictures of his father, his mother, his granny, and his little brother. Bob praises Big Bird's family and asks if he'd like to see a family of lions.

Film
Lions (instrumental, with occasional lion growls)
Music: Joe Raposo
(First: Episode 0018)

Cast
Bob talks to the kids about lion cubs.

Cartoon
Z for zipper
(First: Episode 0025)

SCENE 6
Big Bird is upset because he lost his hat, ruined the flowers for Granny Bird, and hurt his wing trying to hang a welcome sign for her arrival. Susan offers him some replacement flowers, Gordon offers to hang the welcome sign, and Mr. Hooper offers up something he baked: a pumpkin seed cake.

Cartoon
Girls play a jump rope alphabet game: "I've got an A in my ankle, I've got a B in my back," etc. A boy wants to play, but one of the girls says the game is for girls only. Finally, when he contributes "I've got a Z in my zebra," one of the girls says he can play.

SCENE 7
Everyone has finished decorating when Granny Bird arrives. Gordon leads her to Big Bird's nest where grandmother and grandson can be heard conversing, unseen behind the construction doors.
Community content is available under
CC-BY-SA
unless otherwise noted.