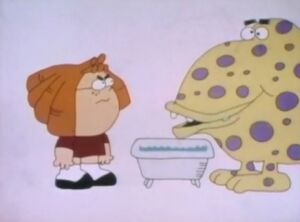 Cartoon: A Gary Owens-voiced man attempts to discuss the letter I, but is jeered by an offscreen voice. The man uses him as an example of the word "impolite".
Ernie and Bert are watching TV, but Bert gets bored and decides to play a record. Ernie tells him to turn down the volume, but Bert won't, so Ernie drowns out Bert's music by playing the radio. Bert then retaliates by turning on the blender. With all four things running at once, they blow a fuse. Bert goes outside to fix the fuse box, while Ernie turns off all the things that were running. When the lights come on again, they decide to play cards instead of fight. (First: Episode 0003)
Cartoon: Gloria, a rambunctious little girl, sings the alphabet song while an adult gives her instructions. (lowercase version) (First: Episode 0010)
Community content is available under
CC-BY-SA
unless otherwise noted.