Sesame Street
A windy day
Air date
December 25, 1969
Season
Season 1 (1969-1970)

Production
November 26, 1969
Sponsors
C, F, I, 2, 3

This episode guide has been compiled from script materials provided by a trusted source.

ⓘ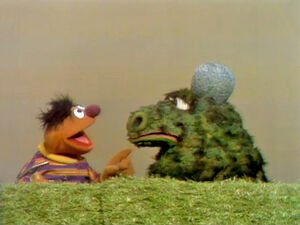 Picture
Segment
Description

SCENE 1
It's a windy day today on Sesame Street. Gordon spots some moving leaves, Mr. Hooper places weights on his newspapers so they don't blow away, and Bob and Susan bundle up.

Muppets
Guy Smiley sings "Gone with the Wind" to a young woman. During the song, a very strong wind blows – making the leaves fly off the tree, causing the woman's house to collapse, and finally ripping Guy's clothes off.

SCENE 2
Mr. Hooper brings out a kite, which he calls "Hooper's Heaven Hopper and Cloud Caper-Cutter". It doesn't work as planned, but Gordon remarks, "That's not the first thing I've seen that didn't get off the ground …"

Cartoon
Rocket countdown: The rocket shoots water.
(First: Episode 0022)

SCENE 3
Gordon, Bob and Susan all cooperate to get Mr. Hooper's kite into the air. Big Bird sees it, and thinks it's the funniest-looking bird he's seen. They quickly dodge an airplane, which is Alphabet Bates skywriting the letter C. (First: Episode 0029)

Cartoon
A man (voice of Bob Arbogast) talks about his favorite letter, C, which is for cat. He opens a door to reveal a lion.
(First: Episode 0032)

SCENE 4
Bob asks Oscar if he'd like to fly the kite, but Oscar is busy writing poetry. Bob reminds him that "three" rhymes with "me".

Cartoon
"Jazz #3"
(First: Episode 0002)

Cartoon
Rocket countdown: The spectators take off.
(First: Episode 0022)

Muppets
Ernie & Bert — Ernie is going on a hunt for big rocks. When he tries to pick a really big one, the rock turns out to be the dome of a large monster.




Film
"Big, Bigger, Biggest"
A junior car dealer displays cars of different sizes to people of different sizes.
(First: Episode 0003)

SCENE 5
Bob and some kids observe a kitten. Bob introduces the next segment.

Film
"Three Song (Song of Three)."
(First: Episode 0001)

SCENE 5
cont'd
Bob introduces the next segment.

Cartoon
"Jazz #2"
(First: Episode 0001)

SCENE 6
In the kitchen, Susan displays the difference between two and three using kitchenware.

Cartoon
"Jazz #3" (repeat)

SCENE 6
cont'd
Big Bird feels dumb for not knowing before how to count to three. Susan reassures him that he's got it better than Buddy and Jim.

Cast
Buddy and Jim - Wall Painting
(First: Episode 0012)

Cartoon
Rocket countdown: Rocket takes off at 7. Then it comes down so the man can continue his countdown, but at 1, it falls over with a huge crash.
(First: Episode 0022)

SCENE 7
Mr. Hooper shows Big Bird his box kite, which is constructed with rectangles.




Film
"Rectangles"
Rectangles in the city and country are shown to a percussion soundtrack.
(First: Episode 0005)

SCENE 8
Gordon finds Oscar, still writing poems. He observes that "flower" rhymes with "hour", and also begins with F.

Cartoon
Speech Balloon: F for Fly
(First: Episode 0032)

Cartoon
A self-proclaimed "handsome" fly (voiced by Casey Kasem) is indignant about appearing in a segment about the letter F with a "fat and ugly" frog. The frog solves the problem by eating the fly.

SCENE 9
Mr. Hooper takes his turn flying the kite. Bob says a fly is a small animal, but here's a big animal …

Film
A film shows parts of an elephant.
Music: Joe Raposo

SCENE 10
Big Bird encounters Bob and the kids. Bob gives clues about the animal we just saw, which Big Bird thinks was himself at first, but it was the elephant.

Film
"Three Song (Song of Three)." (repeat)

Cartoon
"Jazz #3" (repeat)

Cartoon
"Jazz #2" (repeat)

Song
"What Kids Are Made Of" - a song about body parts.
(First: Episode 0003)

SCENE 11
Susan points out that machines also have parts.

Film
A steam shovel picks up debris.
(First: Episode 0004)

Muppets / Cast
Bob reads "The Story of Ira and Inez."

Cartoon
While fishing one day, a boy catches the letters of the alphabet. Frustrated at not having caught any fish to eat, he decides to use his catch for alphabet soup.
(First: Episode 0004)

SCENE 12
Gordon asks the kids what's happened in the pictures he shows them. The last one shows an airplane in the sky; Gordon points out that Big Bird is the real expert on flying. When Mr. Hooper hands Big Bird the kite, Big Bird confesses that he can't fly. They encourage him to try it, and the wind ends up being so strong that it carries Big Bird up into the air with the kite! Everyone watches with amazement as Big Bird flaps against the wind. Gordon signs off and announces the sponsors.
Community content is available under
CC-BY-SA
unless otherwise noted.