(Added episode number)

Line 1:
Line 1:
 

{{episodesesame|plot=|airdate=December 25, [[1969]]|season=[[Season 1 (1969-1970)]]|sponsors=[[C]], [[F]], [[I]], [[2]], [[3]]|syndication=|releases=|ctw}}

 

{{episodesesame|plot=|airdate=December 25, [[1969]]|season=[[Season 1 (1969-1970)]]|sponsors=[[C]], [[F]], [[I]], [[2]], [[3]]|syndication=|releases=|ctw}}

 
+

[[Image:0034.png|thumb|300px]]

 

[[Image:Rockhuntingernie.jpg|thumb|300px]]

 

[[Image:Rockhuntingernie.jpg|thumb|300px]]

 

*[[Guy Smiley]] sings "[[Gone with the Wind (song)|Gone with the Wind]]" to a young woman. During the song, a very strong wind blows – making the leaves fly off the tree, causing the woman's house to collapse, and finally ripping Guy's clothes off.

 

*[[Guy Smiley]] sings "[[Gone with the Wind (song)|Gone with the Wind]]" to a young woman. During the song, a very strong wind blows – making the leaves fly off the tree, causing the woman's house to collapse, and finally ripping Guy's clothes off.

Line 38:
Line 39:
 
 
 

{{nav|episode|prev=[[Episode 0033]]|next=[[Episode 0035]]}}

 

{{nav|episode|prev=[[Episode 0033]]|next=[[Episode 0035]]}}

⚫
 
 

__NOWYSIWYG__

 

__NOWYSIWYG__

 
⚫
---
Revision as of 07:56, 8 September 2018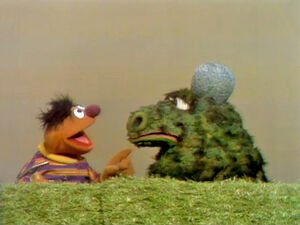 Guy Smiley sings "Gone with the Wind" to a young woman. During the song, a very strong wind blows – making the leaves fly off the tree, causing the woman's house to collapse, and finally ripping Guy's clothes off.
Ernie is on a hunt for big rocks. When he tries to pick a really big rock, the rock turns out to be the dome of a large monster.
Cartoon: A fisherboy catches all the letters of the alphabet and makes alphabet soup. (First: Episode 0004)
Cartoon: A self-proclaimed "handsome" fly (voiced by Casey Kasem) is indignant about appearing in a segment about the letter F with a "fat and ugly" frog. The frog solves the problem by eating the fly.
Countdown series: Minus his podium, the director laughs nervously as he accidentally launches the spectators into space. (First: Episode 0022)
Countdown series: The rocket takes off at seven. It comes back down so the director can continue his countdown, but at one, it falls over with a huge crash. (First: Episode 0022)
Film: A junior car dealer displays cars of different sizes to people of different sizes. (First: Episode 0003)
Community content is available under
CC-BY-SA
unless otherwise noted.