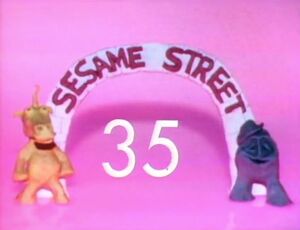 Picture
Segment
Description

SCENE 1
Gordon tosses the football around with Jay as he welcomes the viewer. He asked Ernie earlier if he wanted to play, but Ernie's about to take a nap…

Muppets
Cookie Monster and Ernie: During Ernie's naptime, Cookie Monster tries to steal and eat Ernie's pillow by distracting him with a bell.




Film
A film of things that make sounds, including birds, farm animals, vehicles and footsteps. Is silence a sound?
(First: Episode 0002)

SCENE 2
Big Bird looks around for things that begin with F for Kolai, but hasn't been able to find anything. Susan points to her face and fingers, as well as his feet and feathers.

Cartoon
Speech Balloon: F for Fly
(First: Episode 0032)

SCENE 3
Oscar is upset that Big Bird went to Susan rather than him to show F words; after all, he is the expert. He displays for Gordon a fork, a football, some flowers, and a fish named Freddy. He then turns on his fountain (the home of Freddy) and water spouts out of his trash can.

Cartoon
Speech Balloon: F for Fly (repeat)

SCENE 4
Bob and Steve look at a grey goose, which has a long neck. Which animal has the longest neck?

Film
Sesame Street Animal Films: Giraffes.
Music: Joe Raposo
(First: Episode 0010)

SCENE 5
Susan shows some picture sequences to Sally and Kolai and asks them which order they go in. The first set is a man riding a horse, the next is a bird's nest with eggs, and the last sequence involves a cat up a tree.

Cartoon
A man (voice of Bob Arbogast) talks about his favorite letter, C, which is for cat. He opens a door to reveal a lion.
(First: Episode 0032)

Cartoon
Speech Balloon: C for cat (impostor)
(First: Episode 0029)

Film
"Two Song (Song of Two)"
(First: Episode 0001)

Cartoon
"Jazz #2"
(First: Episode 0001)

SCENE 6
Gordon points out the many wheels he sees: two on Jay's scooter, three on Kolai's tricycle, and four on Steve's roller skate.




Film
Different kinds of wheels are shown and what they're used for.
(First: Episode 0013)

SCENE 7
Susan plays "One of These Things" with Steve and Kolai with pictures of three stars and one circle.

Film
"Three Song (Song of Three)."
(First: Episode 0001)

Cartoon
"Jazz #3"
(First: Episode 0002)

Celebrity
Listen My Brother sings a counting song.
(First: Episode 0026)

SCENE 8
What should Susan use to eat her soup: her knife, fork or spoon? Buddy and Jim wouldn't know...

Cast
Buddy and Jim try to eat soup with a fork.
(First: Episode 0019)




SCENE 9
Bob reads a book: If I Had... by Mercer Mayer. He mentions that it's important to know the alphabet, like Burt Lancaster.

Celebrity
Burt Lancaster says the alphabet.
(First: Episode 0006)

Cartoon
Speech Balloon: I - ice cream.
(First: Episode 0033)

Cartoon
A Gary Owens-voiced man attempts to discuss the letter I, but is jeered by an offscreen voice. The man uses him as an example of the word "impolite".
(First: Episode 0032)

SCENE 10
Bob and Sally observe and feed a young chimpanzee. Bob points out that animals don't have hands, like people.

Film
There Once Was a Hand: Skip Hinnant narrates the story of an unhappy hand that wishes he could make a noise.
(First: Episode 0007)

Film
A group of kids play follow the leader and go over, around and through various obstacles, but one of them takes a while to catch on.
(First: Episode 0001)




SCENE 11
Bob signs off, and the credits roll as he plays Pat-a-Cake and feeds the chimpanzee. Gordon later joins him to sign off as Susan announces the sponsors and today's book.




CLOSING SIGNS
Cookie Monster holds the Sesame Street sign, and Gordon and Susan hold the Children's Television Workshop sign.