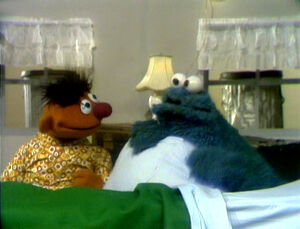 Picture
Segment
Description

SCENE 1
Gordon welcomes the viewer, passing by Ernie and Bert's apartment. He asked Ernie earlier if he wanted to play, but Ernie's about to take a nap …

Muppets
Cookie Monster and Ernie: During Ernie's naptime, Cookie Monster tries to steal and eat Ernie's pillow by distracting him with a bell.




Film
A film of things that make sounds, including birds, farm animals, vehicles and footsteps. Is silence a sound?
(First: Episode 0002)

SCENE 2
Big Bird looks around for things that begin with F. Susan points to her face, as well as his feet, fingers and feathers.

Film
Commercial F (0:12)

SCENE 3
Oscar remarks to Gordon that he (Oscar) knows more F words than Big Bird, and displays a fork, a football, some flowers, and fish. He then turns on his fountain, which spouts out of his trash can.

Film
Commercial F (0:12) (repeat)

SCENE 4
Bob looks at an animal, which has a short neck. Which animal has a long neck?

Film
Sesame Street Animal Films: Giraffes.
Music: Joe Raposo
(First: Episode 0010)

SCENE 5
Susan shows some picture sequences to some kids and asks them which order they go in. The last sequence involves a cat up a tree.

Cartoon
A man (voice of Bob Arbogast) talks about his favorite letter, C, which is for cat. He opens a door to reveal a lion.
(First: Episode 0032)

Cartoon
Speech Balloon: C for cat (impostor)
(First: Episode 0029)

Film
"Two Song (Song of Two)"
(First: Episode 0001)

Cartoon
"Jazz #2"
(First: Episode 0001)

SCENE 6
Gordon points out the many wheels he sees: two on a scooter, three on a tricycle, and four on a roller skate.




Film
Different kinds of wheels are shown and what they're used for.
(First: Episode 0013)

SCENE 7
Susan plays "One of These Things" with pictures of shapes.

Film
"Three Song (Song of Three)."
(First: Episode 0001)

Cartoon
"Jazz #3"
(First: Episode 0002)

Celebrity
Listen My Brother sings a counting song.
(First: Episode 0026)

SCENE 8
Susan introduces Buddy and Jim.

Cast
Buddy and Jim try to eat soup with a fork.
(First: Episode 0019)

SCENE 9
Bob reads a book: If I Had by Mercer Mayer. He mentions that it's important to know the alphabet, like Burt Lancaster.

Celebrity
Burt Lancaster says the alphabet.
(First: Episode 0006)

Cartoon
Speech Balloon: I - ice cream.
(First: Episode 0033)

Cartoon
A Gary Owens-voiced man attempts to discuss the letter I, but is jeered by an offscreen voice. The man uses him as an example of the word "impolite".
(First: Episode 0032)

SCENE 10
Gordon and some kids observe a live chimpanzee. He points out that animals don't have hands, like people.

Film
There Once Was a Hand: Skip Hinnant narrates the story of an unhappy hand that wishes he could make a noise.
(First: Episode 0007)

Film
A group of kids play follow the leader and go over, around and through various obstacles, but one of them takes a while to catch on.
(First: Episode 0001)

SCENE 11
Gordon signs off, and the credits roll. Gordon announces the sponsors and today's book.
Community content is available under
CC-BY-SA
unless otherwise noted.