Line 30:
Line 30:
 
 
 

{{nav|episode|prev=[[Episode 0035]]|next=[[Episode 0037]]}}

 

{{nav|episode|prev=[[Episode 0035]]|next=[[Episode 0037]]}}

 
+
⚫
 
 

__NOWYSIWYG__

 

__NOWYSIWYG__

 
⚫
---
Revision as of 03:53, 23 September 2018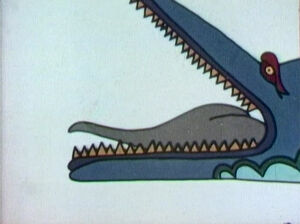 Cartoon: A man uses a ladder to climb up to the top of a capital L.
Cartoon: "Poverty U" -- A figure gives a salute to the letter U, and presents the letter with a bouquet of flowers.
Film: A boy with magic glasses listens to the sounds of an ice cream truck, a dog, a horse galloping, and a parrot. (First: Episode 0008)
Film: Three boys (including Brian Henson) pretend to be steam shovels, playing in the dirt. This segues into footage of real construction vehicles. A parallel is drawn between the machinery and how the boys' arms and mouths work. (First: Episode 0003)
"Triangle and Square": A male voice narrates a story of a jazzy triangle who loved to dance, and a square square. The triangle likes being flexible, but the square would rather be stiff and *square*. (First: Episode 0007)
Community content is available under
CC-BY-SA
unless otherwise noted.