Sesame Street
Oscar's missing trash can lid
Air date
December 30, 1969
Season
Season 1 (1969-1970)

Production
December 3, 1969
Sponsors
L, U, Y, 4, 5

This episode guide has been compiled from script materials provided by a trusted source.

ⓘ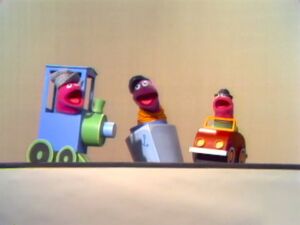 Picture
Segment
Description

SCENE 1
Gordon plays a "what happens next" game with some kids, in which he points them to some videotaped clips which pause so that the kids can guess what will happen next. The results are surprising.

Cartoon
"Jazz #4"
(First: Episode 0006)

Celebrity
James Earl Jones counts to 10.
(First: Episode 0005)

Cartoon
Y is for Yo-Yo
(First: Episode 0036)

SCENE 2
Gordon overhears a distraught Oscar, whose trash can lid is missing. Gordon offers to look for it, since it's round.

Film
"Round": A live-action film set to a lively soundtrack shows circles in every-day life, including Coca-Cola bottle caps, moving wheels, yo-yos, bubbles, and balloons.
(First: Episode 0002)

SCENE 3
Susan and the kids look up and see Alphabet Bates skywrite the letter U (First: Episode 0036). Meanwhile Oscar has put an umbrella over his can as a temporary lid, but he's still upset, so he plays "Tiptoe Through the Tulips" on his ukulele.

Animation
Clay animation film by Jim Henson: A unicorn talks about U words.

Cartoon
"Egg Chant": A girl skips rope as a boy sits with an egg on his knee. They recite an alphabet poem together. The egg hatches and a dancing lizard emerges.
(First: Episode 0003)

SCENE 4
Jennie plays a game with Oscar and a kid, where she asks what's wrong with each picture she shows them. Finally, Oscar shows a picture of his lidless trash can, and wishes he could go somewhere far away …

Film
Transportation
(First: Episode 0005)

Muppets
Anything Muppets sing "Goin' for a Ride", while traveling in a car, train, and boat.

SCENE 5
Oscar is all packed up and ready to move away from his trash can, when Mr. Hooper suggests that he could use a newspaper as a lid. The idea works at first, until Mr. Hooper gets distracted by the newspaper's contents.

Cartoon
Jazz #5
(First: Episode 0005)

Muppets
Ernie & Bert — Bert overhears Ernie drawing a picture of a dog with five legs. Bert thinks the fifth leg is a tail, because the other four legs have paws. Bert asks about the fifth leg, "Where's its paw?" Ernie replies, "It's gone shopping with its maw."
(First: Episode 0010)

Film
Five Song (Song of Five)
(First: Episode 0006)

Muppets
"Five People in My Family"
(First: Episode 0008)

SCENE 6
Gordon, Susan, Mr. Hooper and Jennie have just about given up trying to find Oscar's lost lid, when Sam the garbage man drops it off! Oscar is happy once again, even though he won't admit it, but he will admit that "lid" begins with L.

Cartoon
L is for Lunchbox
(First: Episode 0031)

SCENE 7
Gordon reads a book to the kids: Tony and the Toll Collector by Eric Stevenson.

Cartoon
L is for Ladder
(First: Episode 0036)

SCENE 8
In the kitchen, Susan tells a story using a cup and a saucer as props.

SCENE 9
Jennie shows the kids some pictures of a snowy forest, with objects hidden in them.

Cartoon
Y is for Yo-Yo (repeat)

Cast
Buddy and Jim have trouble getting a pair of tennis shoes and heavy workboots into their boxes.
(First: Episode 0003)

SCENE 10
Gordon signs off and announces the sponsors and today's book.