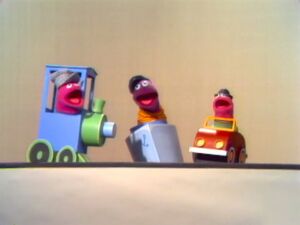 Clay animation: The letter U is focused in a story involving a unicorn in his underwear and uniform upon a unicycle whilst under an unusually ugly umbrella.
Film: "ROUND" -- A live-action film shows circles in everyday life, from Coca-Cola bottle caps, to moving wheels, to yo-yos, bubbles, and balloons, set to a lively soundtrack. (First: Episode 0002)
Cartoon: A man uses a ladder to climb up to the top of a capital L. (First: Episode 0031)
Cartoon: "Egg Chant": A girl skips rope and says the alphabet as a boy sits with an egg on his knee; the egg hatches, and a dancing lizard comes out. (First: Episode 0003)
Community content is available under
CC-BY-SA
unless otherwise noted.