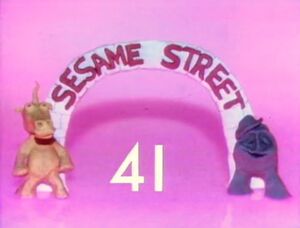 Picture
Segment
Description




SCENE 1
Gordon is about to pick up his newspaper from Hooper's Store, when he looks up and sees Alphabet Bates skywrite the letter N (First: Episode 0040). He asks Big Bird and Carlos if they know any N words. Big Bird thinks of his neck, and Carlos thinks of his nose.

Cartoon
Speech Balloon: N - Nail
(First: Episode 0040)




SCENE 1
cont'd
Gordon also remembers that N is for newspaper, then notices that the newspaper stand is missing. Mr. Hooper has just replaced the old-fashioned stand with his new invention: Hooper's Super Duper Newspaper Machine. Mr. Hooper demonstrates it by having Gordon ask for a paper. With the turns of the dials and a push of the button, the machine reveals a gold-gloved hand that tosses him a rolled-up newspaper. After getting a second paper, the machine goes haywire, and the hand begins tossing out newspapers everywhere. Big Bird counts seven of them.

Film
"Seven Song (Song of Seven)"
(First: Episode 0011)

SCENE 2
The front of Hooper's Store is now littered with newspapers. Mr. Hooper is able to shut the machine off and is determined that he can find something to replace the old stand. To Gordon's surprise, Big Bird decides to build Mr. Hooper a new stand, using some wood from Bob's wood shop class, and a hammer and some nails.

Cartoon
Speech Balloon: N - Nail (repeat)

SCENE 3
Bob, Chet, and Norma look at a crow, while nearby they hear Big Bird hammering away.

Film
Sesame Street Animal Films: Tree kangaroo and baby.
Music: Joe Raposo
(First: Episode 0026)

Cartoon
K is for kitten.
(First: Episode 0040)




SCENE 4
Big Bird has finished building a newspaper stand for Mr. Hooper, which is much taller than Mr. Hooper expected, since Big Bird is so big. Big Bird, however, has come up with a solution: a ladder to get to the top. Mr. Hooper notes how complicated this is just to get a newspaper, which Big Bird acknowledges.

Cartoon
Girls play a jump rope alphabet game: "I've got an A in my ankle, I've got a B in my back," etc. A boy wants to play, but one of the girls says the game is for girls only. Finally, when he contributes "I've got a Z in my zebra," one of the girls says he can play.
(First: Episode 0030)




SCENE 5
Bob follows a group of signs with arrows pointing from Hooper's Store to Oscar's can. Oscar is selling copies of The Daily Grouch while Hooper's is out of the newspaper business. The grouch newspaper contains stories of grouchy things happening, such as a man getting drenched by a speeding truck and ants spoiling a picnic. One story sounds much happier, but it's incomplete as the Daily Grouch doesn't cover good stories.

Film
There Once Was a Hand: Skip Hinnant narrates the story of an unhappy hand that wishes he could make a noise.
(First: Episode 0007)

SCENE 6
Mr. Hooper reveals to Gordon and Bob that he's sticking with his old newspaper stand and invites everyone in the store for ice cream.

Cartoon
Speech Balloon: I - ice cream.
(First: Episode 0033)

Cartoon
Jazz #6
(First: Episode 0011)

Muppets
Ernie & Bert — Ernie struggles to save a plate of cookies for Bert. Beautiful Day Monster disguises himself as a baker and a little girl to trick Ernie out of four of the five cookies, but Bert blames Ernie.

Film
"Six Song (Song of Six)"
(First: Episode 0011)

Cartoon
Jazz #6 (repeat)

SCENE 7
Bob plays two rounds of "One of These Things" with three N's and a 6, and three vehicles and a fork.




Film
Different kinds of wheels are shown and what they're used for.
(First: Episode 0013)

Cast
Buddy and Jim struggle with replacing a light bulb.
(First: Episode 0007)

Muppets
Mahna Mahna and two Anything Muppet girls sing "Mah Na Mah Na".
(First: Episode 0014)

SCENE 8
Mr. Hooper talks about the leashed ocelot he has with him. Mr. Hooper wonders how small it was when it was a baby.

Film
Film footage of a 1-day-old baby reindeer taking its first steps.
Music: Joe Raposo
(First: Episode 0003)

Cartoon
K is for kitten.
(First: Episode 0040)

SCENE 9
Gordon shows Chet and Jill how different shapes can be used to make objects, such as an arrow, a face, and a sailboat.

Film
Hands build things out of triangles and squares while off-screen voices try to figure out what the constructions will be.
(First: Episode 0004)

SCENE 10
Gordon signs off, and Bob announces the sponsors.




CLOSING SIGNS
Ernie and Bert hold the Sesame Street sign, and Mr. Hooper and Bob hold the Children's Television Workshop sign.