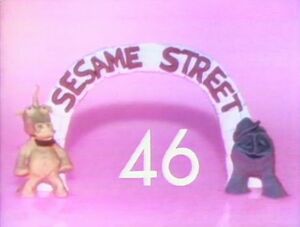 Picture
Segment
Description




SCENE 1
Gordon calls the others to come and see what he's found. On the construction door fence is a large circus poster. Susan, Mr. Hooper and Bob are also delighted to see the poster. They talk of all things to be seen at the circus and point out pictures of them on the poster - the acrobats and clowns, the wild animals and jugglers. Big Bird enters in a state of great excitement, having just been at the circus himself. He saw some "A" animals.

Cartoon
Speech Balloon: A for Ape
(First: Episode 0006)

Cartoon
A man displays the capital and lowercase A, and explains what an alligator is.
(First: Episode 0006)

SCENE 1
cont'd
Big Bird decides to join the circus. He thinks he can do bird imitations or be an acrobat, but the others think otherwise. Everybody tries discouraging him, but Big Bird won't be put off and starts to throw a tantrum. Everyone decides to let him practice by walking on a rope laid out on the street, taking eight off-balance steps.

Cartoon
Jazz #8
(First: Episode 0016)

Cartoon
Rocket countdown: The rocket blows up in a shower of soot.
(First: Episode 0018)

Cartoon
Jazz #8 (repeat)

SCENE 1
cont'd
Big Bird thinks maybe he shouldn't be an aerialist after all. Bob reassures him that some people are better off staying on the ground.

Cartoon
Rocket countdown: The announcer blasts off.
(First: Episode 0018)

Muppets
Ernie & Bert — Ernie shows drawings to Bert, and Bert has to guess what happened. Ernie has a drawing of an empty bird cage with an open door (the bird flew away), and a man lying on the ground with a banana peel next to him (he slipped on it). Then Ernie shows Bert an empty page. The answer to that one is that there was a cow eating grass, but the grass is all eaten now and the cow went home.
(First: Episode 0030)




SCENE 2
In the kitchen, Oscar has brought Susan some roses that just happened to be on the thorny stems he gave her in honor of Ebenezer Scrooge's birthday. Reggie and Shelley watch as Susan cuts the stems of roses with a pair of scissors and arranges the flowers in a vase. She invites Oscar in for lunch, and tells him the meaning of "cooperation" by telling a story about a pair of scissors named Charlie and Bruce who decide to separate and not work together.

Cartoon
Rocket countdown: The spectators take off.
(First: Episode 0022)




SCENE 3
Bob encounters Big Bird pretending to be a lion tamer - with a box turtle as the lion. Bob explains that turtles can't do the same tricks that circus lions can do, and Big Bird recalls the last animal he tried to train - an octopus.

Muppets
The Anything Muppets sing "Octopus' Garden."
(First: Episode 0019)

Song
"Song of Eight"
(First: Episode 0016)

Muppets
Ernie & Bert — Ernie finds an egg on the counter. Bert asks him to put it away so he can eat it later. Ernie doesn't understand why. Bert sighs, "Drop it!"... and Ernie does.
(First: Episode 0003)

Cartoon
"Egg Chant": A girl skips rope as a boy sits with an egg on his knee. They recite an alphabet poem together. The egg hatches and a dancing lizard emerges.
(First: Episode 0003)

SCENE 4
In the kitchen, Susan traces a bowl and draws an O; she has the kids and Oscar guess which letter it is. With the addition of one line, the O becomes a Q.

Animation
Clay animation insert by Jim Henson -- Quincy talks about Q.
(First: Episode 0043)

Cartoon
Q - quarter

SCENE 4
cont'd
Oscar and Susan observe that U comes after Q in many words.

Cartoon
Speech Balloon: U for Umbrella
(First: Episode 0038)

Animation
Clay animation film by Jim Henson: A unicorn talks about U words.
(First: Episode 0037)




SCENE 5
Sam the garbage man (James Catusi) finds Oscar's can uninhabited. Gordon informs him that Oscar's not home right now, but he remembers that Oscar always leaves his trash in a small refuse bin beside his door. It's the size of a coffee cup, but luckily there's a small garbage truck that can take care of it. Gordon remarks that now he's seen everything, but you haven't seen Bert sneeze...

Muppets
Ernie & Bert — Ernie holds a hanky while Bert sneezes -- and Bert's nose comes off in Ernie's hand. Ernie teases Bert by putting his nose back in the wrong places.
(First: Episode 0026)

SCENE 6
Susan introduces the next segment.




Film
"Head To Toe Puzzle": Two kids put together a life size jigsaw puzzle of a human body.
(First: Episode 0024)

SCENE 7
Bob, Sumiko, and Paul observe a Shetland pony; Bob gives Sumiko a ride on it.

SCENE 7 cont'd
Mr. Hooper introduces a message from the number 8.

Cartoon
Jazz #8 (repeat)

SCENE 8
Big Bird tries to be a clown and tell some jokes, but only gets a couple of chuckles from Gordon and Mr. Hooper.

Film
"Nine Song (Song of Nine)"
(First: Episode 0016)




Film
A film of things that make sounds, including birds, farm animals, vehicles and footsteps. Is silence a sound?
(First: Episode 0002)

SCENE 9
For dessert, Oscar asks Susan for some pickles, then more, until the pickle jar is empty and he has all of them. He then asks for some chocolate syrup to pour on top.

Cast
Buddy comes home with a new jacket and Jim tries to find out how to get him to see the large label still on it.
(First: Episode 0011)

SCENE 10
Everyone agrees that Big Bird could be a ringmaster. They give him a whistle and a makeshift whip, and send him off to the circus.

Cartoon
Speech Balloon: A for Ape (repeat)

Muppets
Ernie & Bert — Ernie shows Bert his A machine. You turn the crank over here, you push the button on top, and out comes an A. But it doesn't work when it rains, it only makes A when the sun shines.
(First: Episode 0006)

SCENE 11
Big Bird returns from the circus, feeling down because there was nothing he could do there. The others reassure him that it's better that he stay on Sesame Street, and he agrees. Big Bird remembers that the ice show is coming, and wants to be a part of it. As the others try to figure out how to temper Big Bird's enthusiasm, Gordon signs off and Mr. Hooper announces the sponsors.




CLOSING SIGNS
Mr. Hooper holds the Sesame Street sign and a bunch of Muppet hippies hold the Children's Television Workshop sign.