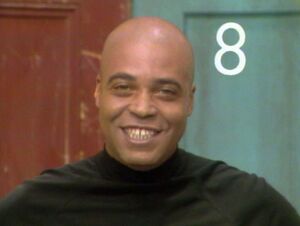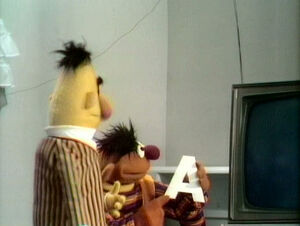 Pete Seeger sings "Where's Your Point Finger?," "Skip To My Lou," "John Henry," and "Abiyoyo".
Cartoon: "Poverty Q": A figure demonstrates Q words, despite the unruly stem of his letter Q that keeps detaching itself. (aired three times)
Cartoon: A man displays the capital and lowercase A, and explains what an alligator is...before he is eaten by one. (First: Episode 0006)
Cartoon: Gloria, a rambunctious little girl, sings the alphabet song while an adult gives her instructions. (lowercase version) (First: Episode 0010)
Film: A junior car dealer displays cars of different sizes to people of different sizes. (First: Episode 0003)
Ernie complains when a big letter A appears on the TV screen, so Bert turns off the set, unplugs it, and Ernie takes a bunch of A objects out of the TV, including an acorn, apricots, an apron, an ape, and finally a letter A. When Bert plugs it back in, a big letter B appears on the screen. (First: Episode 0007)
Community content is available under
CC-BY-SA
unless otherwise noted.