(Added episode number)

Line 1:
Line 1:
 

{{episodesesame|plot=|airdate=January 27, [[1970]]|season=[[Season 1 (1969-1970)]]|sponsors=[[I]], [[P]], [[U]], [[4]], [[5]]|syndication=|releases=|ctw}}

 

{{episodesesame|plot=|airdate=January 27, [[1970]]|season=[[Season 1 (1969-1970)]]|sponsors=[[I]], [[P]], [[U]], [[4]], [[5]]|syndication=|releases=|ctw}}

 
+

[[Image:0057.png|thumb|300px]]

 

[[Image:Lourawls1969.jpg|thumb|300px]]

 

[[Image:Lourawls1969.jpg|thumb|300px]]

 

[[Image:Kermit'sBearExc.jpg|thumb|300px]]

 

[[Image:Kermit'sBearExc.jpg|thumb|300px]]

Line 61:
Line 62:
 
 
 

{{nav|episode|prev=[[Episode 0056]]|next=[[Episode 0058]]}}

 

{{nav|episode|prev=[[Episode 0056]]|next=[[Episode 0058]]}}

⚫
 
 

__NOWYSIWYG__

 

__NOWYSIWYG__

 
⚫
---
Revision as of 08:36, 8 September 2018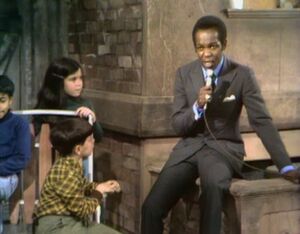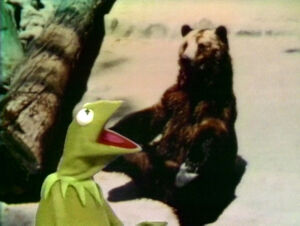 Grover: Grover demonstrates the difference between "near" and "far" by running away from the camera and back, eventually fainting from exhaustion.
Ernie and Bert: Bert says that he and Ernie are looking at the "Mysterious Nose-Snatcher." Ernie, disagreeing, walks closer and closer to the camera to see. His face begins to black out the screen...but when he moves back into view, his nose is missing! (First: Episode 0005)
Cartoon: A Gary Owens-voiced man attempts to discuss the letter I, but is jeered by an offscreen voice. The man uses him as an example of the word "impolite". (First: Episode 0032)
Jim Henson clay animation: The letter "U" is focused in a story involving a unicorn in his underwear and uniform upon a unicycle whilst under an unusually ugly umbrella. (First: Episode 0037)
Countdown series: After countdown, the director himself is launched into space as the rocket stays put. (First: Episode 0018)
Carol Burnett comments on the rocket launch: "Well, back to the ol' drawing board."
Film: Kids paint a picture of a porcupine on glass.
Film: A junior car dealer displays cars of different sizes to people of different sizes. (First: Episode 0003)
Community content is available under
CC-BY-SA
unless otherwise noted.