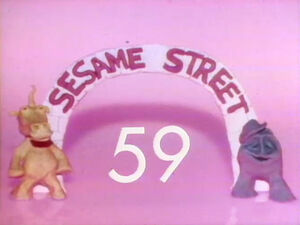 Picture
Segment
Description

SCENE 1
A balloon man (James Catusi) attracts the attention of Gordon, Susan, Bob, and Mr. Hooper. He's only got ten balloons left, but every time Susan tries to buy one, he accidentally pops it with his lit cigar. He had ten, but now he has eight.

Cartoon
Jazz #8
(First: Episode 0016)




SCENE 2
The grownups buy balloons for all the kids on Sesame Street, including Big Bird. One balloon accidentally floats away, and they all look up at it, noticing Alphabet Bates skywrite the letter P (First: Episode 0054).

Cartoon
Speech Balloon: P - Pin
(First: Episode 0054)




SCENE 3
Bob shows Brynne how to put faces on balloons, and sings "Feelin' Groovy". He then plays a trick on Oscar with one of the balloon faces.

Song
"Song of Eight"
(First: Episode 0016)




SCENE 4
In the yard, Susan and some kids spend some time with an eight week old puppy named Sheeba. She shows them some pictures of animals and their mismatched mothers, asking them what's wrong with each picture.

Film
Lemurs leap and play in a zoo cage.
Music: Joe Raposo
(First: Episode 0032)

Film
"Nine Song (Song of Nine)"
(First: Episode 0016)

SCENE 5
Gordon encounters Oscar trying to pick a street address number for his trash can. He first chooses a number 9, but it looks like a 6 when he places it on. He then chooses a number 8, which looks the same upside-down as right-side up.

Film
"Nine Song (Song of Nine)" (repeat)
(First: Episode 0016)

SCENE 6
Buddy demonstrates big and little by blowing up a balloon, until it pops. He introduces Kermit.

Muppets
Kermit's Lectures: Kermit presents a lecture on tall and short using two Snerfs, who keep changing their size.
(First: Episode 0015)

SCENE 7
Mr. Hooper sets up some new toys in his store, including a plastic bird. Big Bird arrives singing "sunny day, keepin' the frogs away", and spots the toy bird. He tries to befriend it and makes up a poem for it on the spot.

Cartoon
Speech Balloon: I - ice cream.
(First: Episode 0033)

Cartoon
A Gary Owens-voiced man attempts to discuss the letter I, but is jeered by an offscreen voice. The man uses him as an example of the word "impolite".
(First: Episode 0032)

SCENE 8
Gordon asks Chris and Shelley what to do with the balloon they got from the balloon man. Shelley suggests drawing a face on it, while Chris wants to let it go so they can see where the wind takes it. Gordon likes the second idea, so he lets the balloon blow away in the wind.

Muppets
Guy Smiley sings "Gone with the Wind" to a young woman. During the song, a very strong wind blows – making the leaves fly off the tree, causing the woman's house to collapse, and finally ripping Guy's clothes off.
(First: Episode 0034)

SCENE 9
Gordon sees the balloon get caught in a tree. He holds Chris up so they can get it down, and observes how handy it is to be tall sometimes.

Muppets
Kermit's Lectures: Kermit presents a lecture on big and small with the Beautiful Day Monster and a small monster. Splurge comes in at the end to show what a really big monster looks like.
(First: Episode 0015)

Film
"Nine Song (Song of Nine)" (repeat)
(First: Episode 0016)




Muppets
Ernie & Bert — Ernie and Bert have difficulty scratching their backs, so both help each other scratch their back. While Ernie's itch takes a little too long to scratch, he introduces a film called "Everybody Scratch." After the film, Ernie notices that Bert has stopped scratching his back; Beautiful Day Monster is.
(First: Episode 0012)

SCENE 10
Big Bird brings a bag of birdseed to his new plastic friend, but it still won't talk. He gets embarrassed when Mr. Hooper asks what he's doing and figures the toy bird won't talk because they're being listened to. Big Bird recites a "How do I love thee, let me count the ways" poem.

Celebrity
Listen My Brother sings a counting song.
(First: Episode 0026)

SCENE 11
Bob presents an Amazon parrot to Brynne, which he claims to have picked up himself in a South American jungle. He says his name is Ulysses, a word that starts with U, which is a very handy letter. Here's why...

Cartoon
Clay animation film by Jim Henson: A unicorn talks about U words.
(First: Episode 0037)

Cartoon
Speech Balloon: U for Umbrella
(First: Episode 0038)

Cast
Buddy and Jim: Jim tries to explain to Buddy what umbrellas are for, but they are both clueless what to do after opening them.
(First: Episode 0005)

SCENE 12
Gordon plays a listening game with Shelley and Murray, telling them to raise their hands when they hear certain sounds. "One thing you can't hear? The sound of a pin drop."

Cartoon
Speech Balloon: P - Pin
(First: Episode 0054)

Cartoon
A short poem about a pirate and his puppy demonstrate the letter P.
(First: Episode 0057)

SCENE 13
Big Bird returns to find that his toy friend is gone, admitting to Gordon and Mr. Hooper that they'd fallen in love with one another. Gordon says the toy went to go stay with some kids, and everything will work out. Big Bird comes around to the idea of the kids being happy with the toy and concedes that it was only a little rubber duck anyway.




Film
Different kinds of wheels are shown and what they're used for.
(First: Episode 0013)

SCENE 14
Gordon lets another balloon go, acknowledging that it won't come back, but that you should. Bob announces the sponsors.