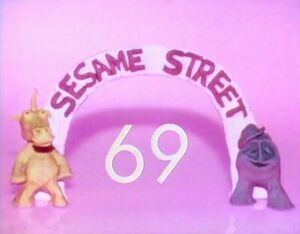 Picture
Segment
Description

SCENE 1
Gordon greets the viewer with Murray and Carlos, saying that so many people have said they were going to be in the neighborhood today. And here comes visitor number one, and visitor number two - Ernie and Bert.

Muppets
Ernie & Bert — Ernie holds a hanky while Bert sneezes -- and Bert's nose comes off in Ernie's hand. Ernie teases Bert by putting his nose back in the wrong places.
(First: Episode 0026)

Cartoon
"Egg Chant": A girl skips rope as a boy sits with an egg on his knee. They recite an alphabet poem together. The egg hatches and a dancing lizard emerges.
(First: Episode 0003)

SCENE 2
Gordon asks Oscar what his favorite letter is. It's the letter S, because it starts words like "sneaky," "sour," "sick," and "sad." Gordon points out that it also begins "sweet," "singing," "seesaw," and "Susan." Oscar immediately goes to hating the letter S.

Animation
Clay animation: Sam the Snake-and other things that begin with S
(First: Episode 0001)

Cartoon
S - Snake: A snake charmer irritates the snake.
(First: Episode 0063)

Film
Alphabet Bates skywrites the letter S.
(First: Episode 0063)

SCENE 3
Gordon introduces the next visitors, the Anything Muppets portraying a family.

Muppets
This part of Sesame Street is now brought to you by...fathers! The Anything Muppets sing about what a father does.
(First: Episode 0011)

SCENE 4
Gordon, Carlos, and Sally observe some box turtles in a "breathtaking, dynamic, and exciting" race, adding to the list of who we're seeing today. And here are Buddy and Jim…

Cast
Buddy and Jim: Jim finds Buddy with his money (4 assorted coins) taped to his forehead for safekeeping. Jim has a better idea, and presents Buddy with a piggy bank. After transferring the coins, Jim also gives Buddy a key to open the bank. But where should Buddy keep the key? Tape that to his forehead? Nope, he merrily drops the key inside the piggy bank, since that's as safe a place as any!
(First: Episode 0031)

SCENE 5
Susan joins Gordon and the kids, and requests to hear from the mother of the Muppet family.

Muppets
This part of Sesame Street is being brought to you by mothers. The Anything Muppets perform a song all about the things a mother does.
(First: Episode 0011)

SCENE 6
Susan adds that not all women cook and clean the home; they have jobs outside of the house, and there's nothing wrong with that. Women work... that's two W words.

Cartoon
"Wanda the Witch"
Animation by Tee Collins
(First: Episode 0001)

SCENE 7
Gordon, Susan, Murray, and Mary play with a mother dog named Grendel and her three puppies.

Film
A gibbon swings, and an audience cheers when the film ends.
Music: Joe Raposo
(First: Episode 0009)

SCENE 8
Gordon tells Grendel that he sees another old friend: Pat Paulsen.

Celebrity
Pat Paulsen counts to 10. "Whoopee!"

SCENE 9
Gordon notes that Paulsen had trouble figuring out the number that comes after 3...

Cartoon
"Jazz #4"
(First: Episode 0006)

SCENE 10
Gordon introduces one more message from the Anything Muppet family.

Muppets
This part of Sesame Street is brought to you by kids. Sibling Anything Muppets sing about the roles they play in the family.
(First: Episode 0011)

Cartoon
"The J Commercial:" Two boys scrutinize a J, saying it looks like a fish-hook. A resonant voice (Gary Owens) informs them that it's the letter J. This leads to a jazzy story about Joe. Moral: "Don't jive a judge by jamming a junebug."
Studio: Ken Snyder; Director: Fred Calvert
(First: Episode 0009)

Cartoon
Speech Balloon: J - Jam
(First: Episode 0012)

Muppets
Ernie & Bert — Ernie finds an egg on the counter. Bert asks him to put it away so he can eat it later. Ernie doesn't understand why. Bert sighs, "Drop it!"... and Ernie does.
(First: Episode 0003)

SCENE 11
Susan plays a rhyming game with Murray, Sally, and Mary, where they guess which animal completes the rhyme in her poems. She adds, "If you're tired of being fat as a hog, then exercise with Kermit the…"

Muppets
Kermit's Lectures - Kermit watches some live bears do exercises.
(First: Episode 0044)

SCENE 12
Susan makes sure the kids know the difference between forwards and backwards by having Sally demonstrate it.

Muppets
An Anything Muppet boy teaches "forward" and "backward" with a group of Muppets who keep running over the boy when his back is turned.

Celebrity
Pat Paulsen demonstrates "forward" and "backward".

SCENE 13
Susan has the kids identify the round shapes on the board she displays. A "magic circle" mattes in and shows the circles on the board, and the kids point out the square and rectangular items as well.

Film
"Round": A live-action film set to a lively soundtrack shows circles in every-day life, including Coca-Cola bottle caps, moving wheels, yo-yos, bubbles, and balloons.
(First: Episode 0002)




Film
Different kinds of wheels are shown and what they're used for.
(First: Episode 0013)

Muppets
Ernie & Bert — Ernie and Bert are watching TV, but Bert gets bored and decides to play a record. Ernie tells him to turn down the volume, but Bert won't, so Ernie drowns out Bert's music by playing the radio. Bert then retaliates by turning on the blender. With all four things running at once, they blow a fuse, causing a total blackout in their apartment. Bert goes outside to fix the fuse box, while Ernie turns off all the things that were running. When the lights come back on, they decide to play cards instead of fight.
(First: Episode 0003)

Film
Four Song (Song of Four)
(First: Episode 0006)

SCENE 14
Susan introduces the following film.

Film
A girl named Jennifer visits family friend Mrs. Wilson in the country, and together they pick food from her garden.
(First: Episode 0021)

SCENE 15
Gordon: "Well, food may be delicious, but some people are adorable."

Muppets
An Anything Muppet man named Jack sings "A, You're Adorable" to his girlfriend, Adrienne, using alphabet blocks to enumerate the ways that he loves her. Cookie Monster shows up and eats the blocks.
(First: Episode 0023)

Cartoon
W is for Worm
(First: Episode 0001)

SCENE 16
Gordon recalls some of today's visitors, and signs off. Susan announces the sponsors.




CLOSING SIGNS
Susan holds the Sesame Street sign, and Gordon holds the Children's Television Workshop sign.