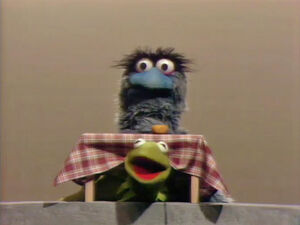 Picture
Segment
Description

SCENE 1
Gordon meets up with Susan when he gets home from work. They suddenly hear a raucous trumpet coming from Oscar's trash can. Oscar tells them that he's in a band, the Groovin' Grouches, who are coming to his can to practice later today, and he's tuning up the instruments (or un-tuning them, as it were). Oscar decides to play his Exlaphone, which Gordon and Susan assume means "xylophone", but it's actually a big letter X which Oscar beats with a hammer.

Cartoon
Speech Balloon: X for X-ray
(First: Episode 0064)

Cartoon
"Poverty X": A peanut-shaped figure lists the words that the letter "X" can be found in.
(First: Episode 0006)

Cartoon
Speech Balloon: X for X-ray (repeat)
(First: Episode 0064)

SCENE 2
Oscar asks Bob what he thinks of his off-key tuba playing. Bob doesn't like it, which is just what Oscar wanted to hear. Bob: "I was going to tell him that I met some traveling musicians coming down the street. And if they make music the way Oscar does, I hope they keep on going."

Muppets
Anything Muppets sing "I Am a Fine Musician".
(First: Episode 0010)

SCENE 3
Susan plays paddleball with some kids on the steps.

Cartoon
"Jazz #4"
(First: Episode 0006)

SCENE 4
Gordon tries to get a gumball from Mr. Hooper's gumball machine. Mr. Hooper demonstrates the right way to do it: kicking the bottom, turning the crank, sliding the lever, twisting the knob, and hitting the top four times. Mr. Hooper leaves, and Gordon attempts the routine, but forgets how many times to hit it. Is it four?

Film
Four Song (Song of Four)
(First: Episode 0006)

SCENE 4
cont'd
… or is it five?

Cartoon
Jazz #5
(First: Episode 0005)

SCENE 4
cont'd
Gordon decides to hit it five times, which breaks the machine and causes gumballs to roll all over the place.

Cartoon
Jazz #5 (repeat)
(First: Episode 0005)

Song
"B is for Bubble."
(First: Episode 0008)

Muppets
Ernie & Bert — Bert hears the phone ringing inside a basket, and asks Ernie to answer it. Ernie goes through the basket, and finds a banana. He pretends it's a phone, and gives it to Bert to talk on. Ernie answers the real phone, and tells the caller that Bert can't come to the phone because he's talking on the banana.
(First: Episode 0004)

Film
A percussionist on the beach talks about how rhythm is everywhere, such as in breaking waves, walking and horse galloping.
(First: Episode 0049)

SCENE 5
Outside Oscar's can, Bob demonstrates what rhythm is to some kids. Oscar tells him not to bother him, and then plays "Jingle Bells" with different instruments.

Cartoon
Jazz #5 (repeat)
(First: Episode 0005)

SCENE 6
Bob and the kids observe a live parrot. Susan displays her house plant, which began as a seed. Bob says that everything has a beginning of some kind.




Film
A voice narrates a film about how things begin -- including roosters, buildings, lakes, cups, birthday cakes, trees, and babies.
Portions of this film were later re-edited into "A Little Bit (at the Beginning)".
(First: Episode 0003)

SCENE 7
Bob sits on the steps with the kids. He tells them that while plants need sunlight and water and attention to grow from seeds, people need things too. They need food, and a place to live and clothes to keep them warm. He sings, "What the World Needs Now Is Love".

SCENE 7
cont'd
Big Bird emerges with Susan's plant, which she let him watch and tend. He thinks it'll grow up to be big and tall, and Bob tells him to imagine what that would be like.

Cartoon
"Poverty X" (repeat)
(First: Episode 0006)

SCENE 7
cont'd
Big Bird briefly leaves to get some more water for the house plant. Susan and Bob come by; Susan sees that the plant has been watered, takes it back inside, and replaces it with a bigger plant which needs more outdoorsy settings. Big Bird comes back, and thinks the house plant has rapidly grown! Gordon doubts Big Bird's theory — it's as hard as Ernie trying to draw the letter X.

Muppets
Ernie tries to draw an X, but can't figure out how, so he plays a game of tic-tac-toe instead. Bert sees the cross-outs that Ernie has made, and congratulates him on drawing Xs.
(First: Episode 0008)

SCENE 7
cont'd
Big Bird finds that the big plant has gone, and fears it's his fault. Susan and Bob reveal to him that they planted it in the big garden in the back. They give Big Bird some flowers, which Big Bird immediately wants to take care of.

Muppets
Ernie talks about the letter X, until Bert comes in and says his bacon's been eaten by a monster. Cookie Monster emerges and eats Ernie's X, quipping "I always like to eat bacon and X!"
(First: Episode 0008)

Film
Five Song (Song of Five)
(First: Episode 0006)

Cartoon
Speech Balloon: A for Ape
(First: Episode 0006)

Cartoon
A man displays the capital and lowercase A, and explains what an alligator is.
(First: Episode 0006)

Muppets
Kermit's Lectures: Kermit demonstrates between by using a ping-pong ball, a doughnut, and a Beatles record sitting on a table, with the donut between the record and the ball. Beautiful Day Monster comes along and proceeds to eat everything. Kermit fears he will also get eaten, but the monster thanks him with a kiss.

SCENE 8
Gordon hears some more raucous, off-key music played by Oscar and his Groovin' Grouches. Oscar, the conductor, tries to count them into another jam, but can't remember what comes after 3.

Film
Four Song (Song of Four) (repeat)
(First: Episode 0006)

SCENE 9
Gordon and Susan overhear as Oscar strikes up the band, making more noisy "music" than ever. They're practicing for a concert, which is a year from next Wednesday. Gordon signs off, Bob loudly announces the sponsors, and the credits roll over the noise from Oscar's band.