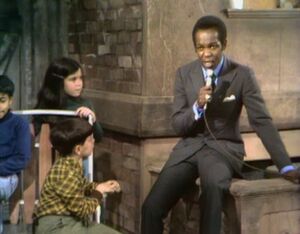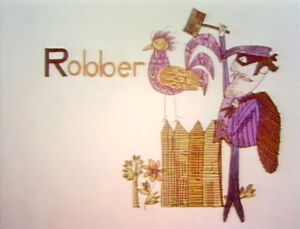 Cartoon: A man talks about the letter J with a jack-in-the-box, whose lid ends up crushing him.
Cartoon: "Story of J" -- Two boys are told of a man named Joe who is sent to jail after jamming a june bug into a jar and a tire pump. (First: Episode 0009)
Ernie and Bert share jellybeans. Ernie has six jellybeans, and Bert has seven. Bert thanks Ernie for giving him the extra jellybean. Ernie says that isn't fair -- they should have an equal amount. To make it even, Ernie eats the extra jellybean. That's fair, isn't it? (First: Episode 0014)
A group of Anything Muppets enter, with one saying, "Some of us are here, but not all." They leave, and say that now none of them are there. They re-enter with a few more, saying that some of them are there but not all, and leave again, saying that none of them are there. Many Muppets appear, including Bert, Grover, Scudge, Fred's son, Oscar and Cookie Monster, who all say, "Now we are all here!" (First: Episode 0061)
Ernie and Bert: Ernie shows drawings to Bert, and Bert has to guess what happened. Ernie has a drawing of an empty bird cage with an open door (the bird flew away), and a man lying on the ground with a banana peel next to him (he slipped on it). Then Ernie shows Bert an empty page. The answer to that one is that there was a cow eating grass, but the grass is all eaten now and the cow went home. (First: Episode 0030)
Cartoon: "Imagination O" -- A surreal story about a boy, a goat, and a bulldozer that closes up a hole in a cloud that blows the cold. (First: Episode 0011)
Cartoon: "Story of R" -- A man and his dog play a film about the letter R, involving a robber who steals a rooster and escapes by rowboat. (First: Episode 0011)
Cartoon: A man (voiced by Casey Kasem) explains the letter R with a radio. Once he starts singing, the radio decides to turn him off by tweaking his nose. (First: Episode 0011)
Community content is available under
CC-BY-SA
unless otherwise noted.