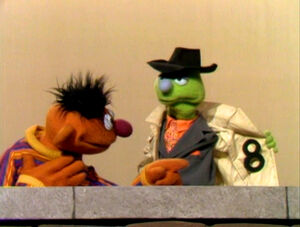 Lefty the Salesman wants to sell an 8 to Ernie, who ran out of money buying some 9s. Ernie then offers to sell Lefty his 9s.
Ernie and Bert: Bert and Ernie are going out, but Ernie wants to finish his milk first. His cup is very small, but it takes a long time to drink. It takes just as long to fill up. When Bert finally wants to go, Ernie finishes the cup in one quick swig. (4-part sketch) (First: Episode 0016)
Ernie and Bert: Bert and Ernie try to figure out who owns a cabinet containing cookies. Bert says that the cabinet is his, because he has his first initial, B, on the door. However, the B is spread between two doors, and Ernie opens one door, making it look like an E. (First: Episode 0019)
Cartoon: A small man and his assistant Dudley attempt to demonstrate both the capital and lower-case letter D. (First: Episode 0016)
Animation: "E Imagination": A surreal story of a boy eating a peach atop an eagle witnessing a queen on her knee, dreaming of eating ice cream in a land of steam. (First: Episode 0001)
Cartoon: Gloria, a rambunctious little girl, sings the alphabet song while an adult gives her instructions. (lowercase version) (First: Episode 0010)
Cartoon: Ten little Greeblies (bug-like creatures) keep getting separated by their group, teaching a lesson in counting backwards. (First: Episode 0006)
Film: "What if you were magic, and could make things stop just by telling it to, or make it go backwards? Stop! Then you could see what things look like when they're moving. Go forwards! Stop! Well, film is magic, and this is a film, so you can be magic for three minutes. Like this: Go slow, water fountain! Now, you try it." (First: Episode 0047)
Community content is available under
CC-BY-SA
unless otherwise noted.