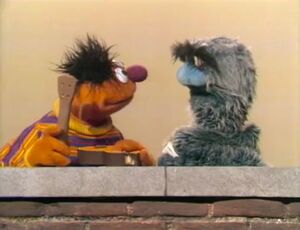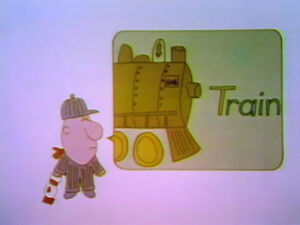 Ernie encounters a sobbing Beautiful Day Monster, who is crying because his ukulele is broken. Ernie shows him a few things one can do with a broken ukulele, but that doesn't stop the monster from crying. Ernie then offers to fix the ukulele. Ernie brings back the ukulele, all fixed. And what does the monster do? He eats it!
Speech Balloon: H -- Hole. A boy gets a pie in the face when he looks out of his speech balloon.
Film: Different parts of a flower are shown as Vivaldi music plays. (First: Episode 0008)
Ernie and Bert: Ernie has a collection of R's in a box. He shows Bert, who says that Ernie will be the laughingstock of Sesame Street if anyone else finds out. Ernie sadly throws away his R's -- and Bert asks to have the box for his J collection. (First: Episode 0014)
Cartoon: "Story of R" -- A man and his dog play a film about the letter R, involving a robber who steals a rooster and escapes by rowboat. (First: Episode 0011)
Cartoon: "Poverty H" -- an orange figure tries to talk about the letter H, but a yellow figure keeps listing H words. (First: Episode 0020)
Cartoon: A man (voiced by Gary Owens) explains how H starts the word "Hello", which is then demonstrated by people calling him and asking for someone named Harold. (First: Episode 0020)
Cartoon: "Poverty T" -- a figure with glasses explains T words, and at the same time abuses another figure with some of them (including getting him tangled and twirled in twine). The second figure turns out to be a cop, who presents him with a ticket for his trash. (First: Episode 0020)
Cartoon: A Casey Kasem-voiced man explains the letter T with a TV that plays a concert. When the man begins to sing with it, the conductor on the TV set "turns him off" by tweaking his nose. (First: Episode 0024)
Community content is available under
CC-BY-SA
unless otherwise noted.