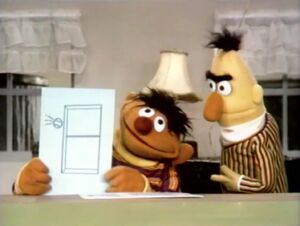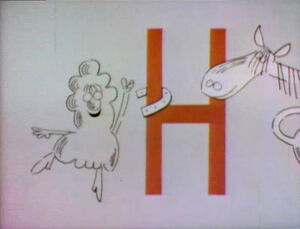 Film: A visit to a cornfield.
Cartoon: "Egg Chant": A girl skips rope and says the alphabet as a boy sits with an egg on his knee; the egg hatches, and a dancing lizard comes out. (First: Episode 0003)
Kermit's Lectures: Kermit and Cookie Monster demonstrate what it is to be happy, angry and sad. Kermit gets angry when Cookie Monster eats the happy face that Kermit provided, Cookie Monster feels sad when Kermit threatens to tell Cookie's mommy what he did, and that makes Kermit happy because he was able to do his demonstration without the tasty Styrofoam faces. (First: Episode 0066)
Cartoon: A man displays the capital and lowercase A, and explains what an alligator is...before he is eaten by one. (First: Episode 0006)
Cartoon: "Poverty H" -- an orange figure tries to talk about the letter H, but a yellow figure keeps listing H words. (First: Episode 0020)
Cartoon: A man (voiced by Gary Owens) explains how H starts the word "Hello", which is then demonstrated by people calling him and asking for someone named Harold. (First: Episode 0020)
Cartoon: A woman explains the letter H and its use in "horseshoe", when a horse comes to reclaim his shoe and starts tickling the woman. (First: Episode 0020)
Community content is available under
CC-BY-SA
unless otherwise noted.