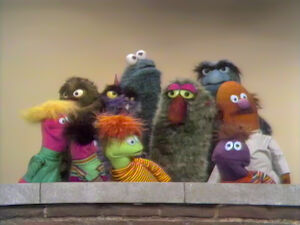 Film: A visit to a tomato field.
Kermit's Lectures: Kermit talks about hair. According to Kermit, "Hair is a part of you. It is not a part of me, because I am a frog." He points out that some people have hair on their heads, while others have it on their faces. But if you have hair all over your body -- like Beautiful Day Monster, who emerges brushing himself and singing "A pretty girl is like a melody ..." -- then you're a monster! (First: Episode 0028)
Cartoon: A man displays the capital and lowercase A, and explains what an alligator is...before he is eaten by one. (First: Episode 0006)
Cartoon: "Poverty H" -- an orange figure tries to talk about the letter H, but a yellow figure keeps listing H words. (First: Episode 0020)
Cartoon: A man (voiced by Gary Owens) explains how H starts the word "Hello", which is then demonstrated by people calling him and asking for someone named Harold. (First: Episode 0020)
Cartoon: "Poverty T" -- a figure with glasses explains T words, and at the same time abuses another figure with some of them (including getting him tangled and twirled in twine). The second figure turns out to be a cop, who presents him with a ticket for his trash. (First: Episode 0020)
Cartoon: A Casey Kasem-voiced man explains the letter T with a TV that plays a concert. When the man begins to sing with it, the conductor on the TV set "turns him off" by tweaking his nose. (First: Episode 0024)
Some Anything Muppets and monsters pile up and count to 10.
Ernie and Bert tell the viewer they're supposed to talk about the letter T. Various words (which appear on screen) begin with T, like triangle, table, telephone, and tickle (Ernie tickles Bert until he's asked to stop). Ernie's favorite thing to do is drink it, but Bert says if you have a cup of tea, you don't have a cup of the letter T. Ernie assures him that he does and drops a T out of his cup. (First: Episode 0021)
Community content is available under
CC-BY-SA
unless otherwise noted.