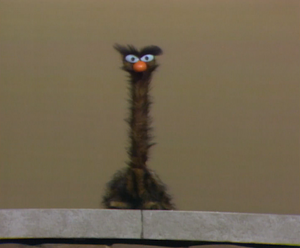 Picture
Segment
Description

Cartoon
Batman and Robin attempt to capture the Joker, while teaching a lesson in crossing the street safely.

Muppets
The Anything Muppets sing "I Am a Fine Musician".
(First: Episode 0010)

Muppets
Snerf demonstrates shorter and longer, introducing a film about giraffes.
(First: Episode 0072)

Film
Sesame Street Animal Films: Giraffes.
(First: Episode 0010)

Film
"Ten Song (Song of Ten)"
(First: Episode 0021)

Cartoon
G for Gorilla (in man suit)
(First: Episode 0085)

Cartoon
A song about a rolling O
Animation by John and Faith Hubley
(First: Episode 0011)

Cartoon
A goat discusses the letter "G". A man comes by to also talk about G, but rather than point out that "goat" is a G word, he observes the grass. Disgusted, the goat butts the man out of the way.
(First: Episode 0085)

Cartoon
"Poverty Z" -- A figure tries to sell a Z. His only customer stops him by locking him inside a zoo cage.
Artist: Cliff Roberts
(First: Episode 0085)

Cartoon
Z for zipper
(First: Episode 0025)

Cartoon
A little girl sings "The Alphabet Song," while continually admonished by an adult in voice-over.
(First: Episode 0010)




Muppets

Gordon has four things lined up in a row--a harmonica, a whistle, a trumpet, and a banana. He tells Ernie that one of these doesn't belong, and Ernie chooses the banana because you can make music with the instruments, but you eat the banana... or so he thinks. Gordon tells Ernie to blow into the banana and Ernie appears to be playing a horn until Gordon reveals he was honking a horn behind his back the whole time. Amused by the trick, they decide to play the same joke on Cookie Monster, but Cookie has a different idea--you eat the harmonica, whistle, and trumpet, and make beautiful music with the banana!
(First: Episode 0016)

Film
"What if you were magic, and could make things stop just by telling it to, or make it go backwards? Stop! Then you could see what things look like when they're moving. Go forwards! Stop! Well, film is magic, and this is a film, so you can be magic for three minutes. Like this: Go slow, water fountain! Now, you try it."
(First: Episode 0047)
The pigeon footage in this film was re-used for the introduction of "Doin' the Pigeon."

Animation
In a clay-animated segment, a green narrator uses his red and yellow friends (and a monster) to demonstrate how faces can show feelings.
Community content is available under
CC-BY-SA
unless otherwise noted.